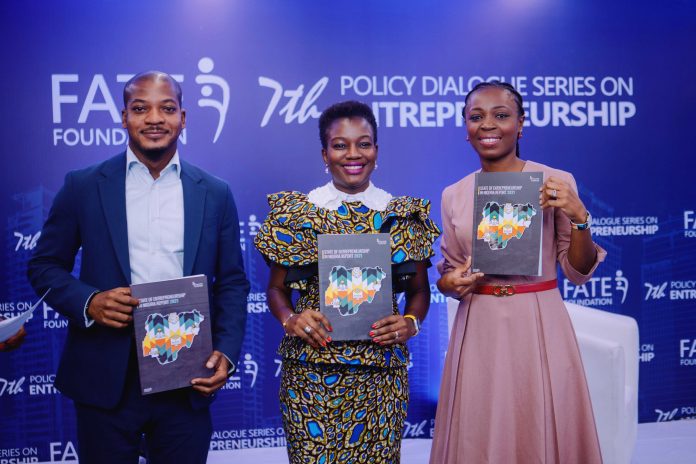 FATE Foundation has launched the 2021 State of Entrepreneurship in Nigeria Report  during the 7th Policy Dialogue on Entrepreneurship which took place on November 11, 2011..
The first of many annual editions to come, this year's report shows data around key entrepreneurship indicators; women and youth-led businesses; challenges and opportunities within the ecosystem; and policy recommendations.
From a survey of over 7,100 respondents across 26 states, and with indicators looking at Business Performance; Perception of Opportunities; Digital Adoption; Skills Acquisition and the Enabling Environment, key findings indicate that:
Entrepreneurship is fairly strong in Nigeria with Skills and Digital Adoption at the highest indicator levels while business performance and enabling environment scored lowest;
Most businesses in Nigeria are youth-led (67%) with an increasing number of businesses being female led (43%);
States such as Abia, Bauchi, Edo, Gombe, Kwara, Jigawa, Oyo and Lagos have more female than male-led businesses;
34% of female-led businesses did not record growth due to the impact of the COVID-19 pandemic and the lockdown albeit;
Technology was a major driver youth-led businesses which experienced growth with those in the Retail, Fashion, FMCG, Agribusiness and Hospitality accounting for the highest technology adoption; and
Inadequate infrastructure, insecurity and poor access to finance are the major constraints to business growth and performance.
The report provides insights to the data highlighted above and more and is a very useful guide to stakeholders across the entrepreneurship ecosystem looking to cultivate, motivate and enable their different entrepreneurial communities.
Kindly download the report here : 2021 State of Entrepreneurship in Nigeria report.
Please do reach out to us at research@fatefoundation.org if you would like to explore more aspects of the research in detail particularly along state, sector and demogprahic levels.