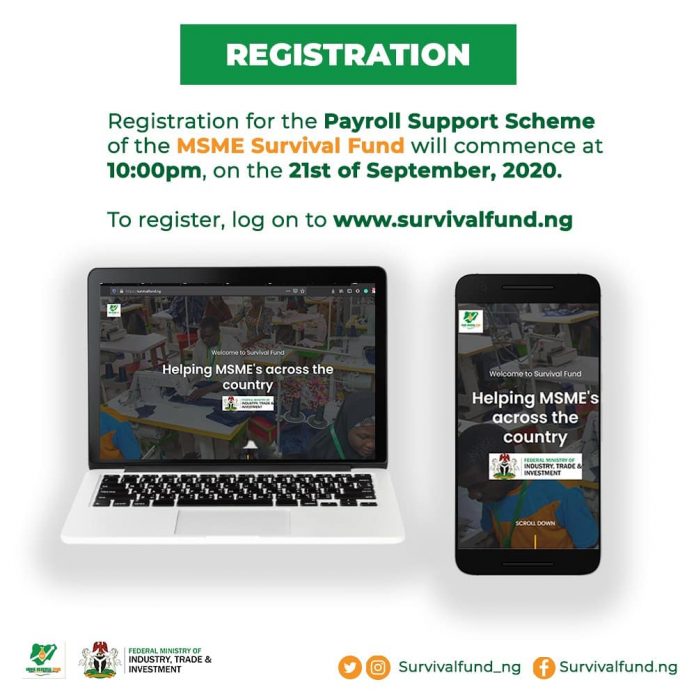 The Federal Government of Nigeria has disclosed that the registration portal for the MSME Survival Fund will open at 10pm, Monday, September 21, 2020.
According to a statement issued on Sunday by the Project Delivery Office, the portal which opens at 10 PM, will have educational institutions as the first category of beneficiaries to register.
"In order to ensure seamless registration process, the Project Delivery Office (PDO) has designed a registration schedule.
"Registration for Payroll Support will start with educational institutions on Monday and will be followed with businesses in the hospitality industry on Friday September 25 beginning from 12 A.M.
"The portal will also be open to other category of small businesses from 12 A.M., on Monday September 28, 2020," the statement said.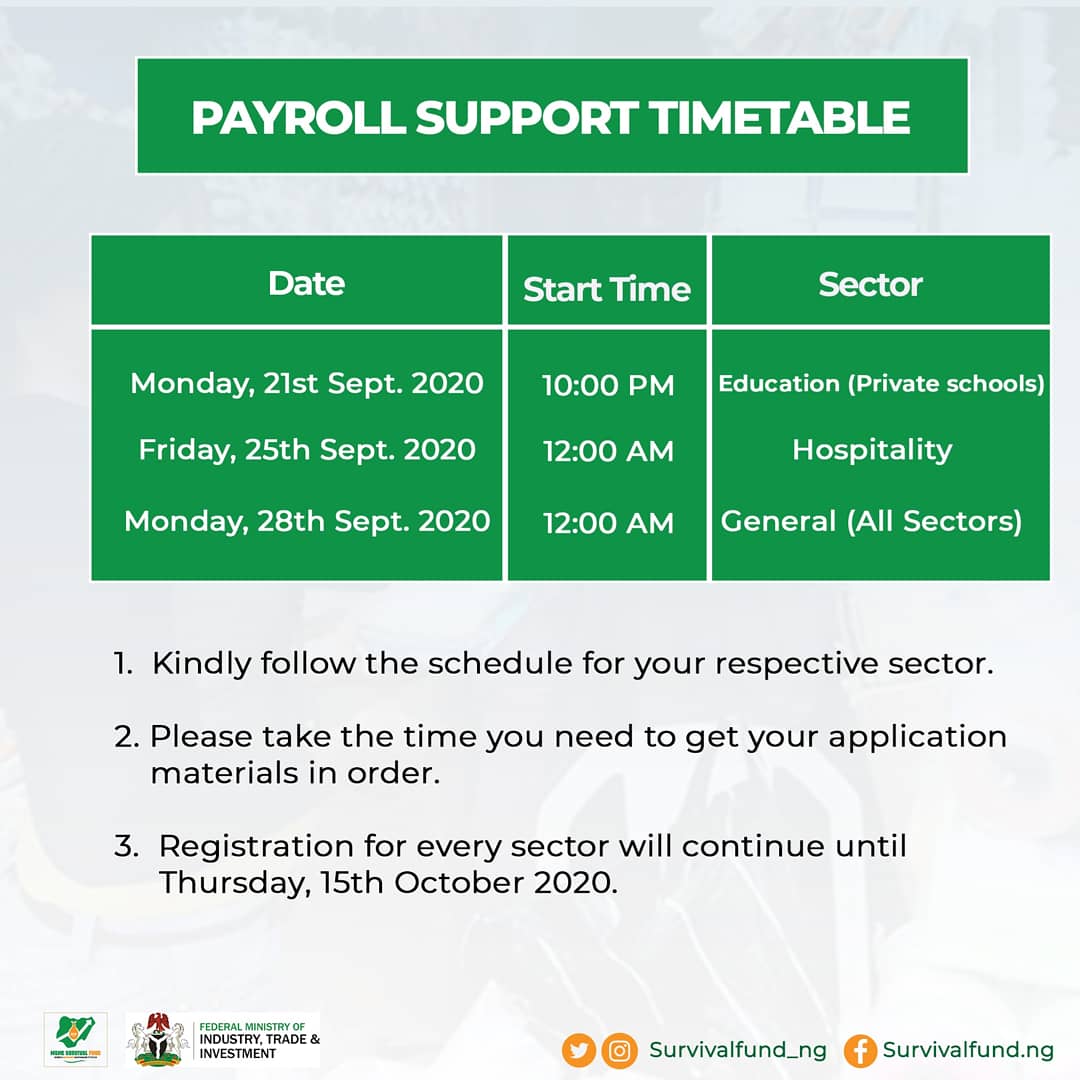 Features
– Payroll Support: Support 500,000 vulnerable MSMEs in meeting payroll obligations of between N30,000 to N50,000 per employee over 3 months
– Formalisation Support: provide free CAC Business Name registration for 250,000 new businesses
– General Grant: Support the survival of 100,000 businesses most affected by the COVID-19 pandemic with N50,000 each
– Artisan/Transport Support: provide 333,000 artisans and transport business operators with a N30,000 operations grant to reduce the effects of income loss
– Guaranteed Offtake Scheme: Bulk purchase of products from 100,000 MSMEs to protect jobs and livelihood
MSME Survival Fund
The MSME Survival Fund is a conditional grant to support vulnerable micro and small enterprises in meeting their payroll obligations and safeguard Jobs in the MSMEs sector. The scheme is estimated to save not less than 1.3million jobs across the country and specifically impact on over 35,000 individuals per state.
Duration: The scheme will be implemented over an initial period of three months in order to provide immediate relief from the economic impact of the pandemic.
Target Beneficiaries: The scheme targets two categories of beneficiaries namely; employees of MSMEs and Self-employed individuals, both schemes have made provision for a 45% female business participation and special needs participation of 5%.
Requirements
A. Employees' company must be registered in Nigeria under the Corporate Affairs Commission, CAC
B. Must have BVN by company CEO
C. Must have a staff strength of no less than 3 persons
D. Must be owned by a Nigerian
Self-employed Individuals in the following categories
A. Service providers in the transportation sector, le. Bus drivers, Taxi drivers, Ride share drivers. (Uber, Bolt Taxify etc) and Mechanics
B. Artisans, Electricians Plumbers etc.
Guranteed Offtake Stimulus Scheme
This scheme will protect and sustain the income of vulnerable Micro and Small Enterprises from the economic disruptions of the COVID-19 pandemic through the implementation of various initiatives aimed at boosting the production capacities of the small businesses as well as provision of grants.
The main objective of this particular scheme is to boost production capabilities of small businesses with the view to ensuring that they remain in business
Duration: The duration of implementation will be same as the payroll support
Target Beneficiaries: Micro and Small businesses registered in Nigeria.
Visit www.survivalfund.ng to register.