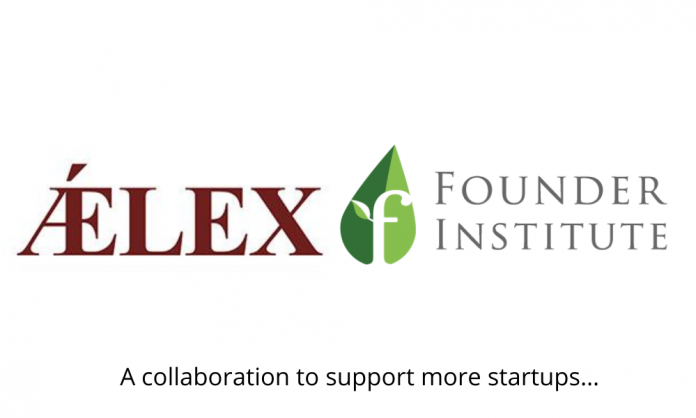 The Founder Institute (http://fi.co), the world's largest pre-seed startup accelerator, and ǼLEX (https://www.aelex.com), an innovative full-service law firm established to meet the dynamics of modern-day businesses and to deliver prompt, efficient and quality services, have agreed to collaborate in helping early-stage startups currently enrolled at the Founder Institute Lagos.
"ǼLEX believes that startups play a very vital role in the economic growth of any society, by spurring innovation and injecting competition, thereby making a positive investment.
In the words of one of ǼLEX's Partners, Perenami Momodu, "a lot of startups have challenges selecting the right legal partner to assist them with protecting their intellectual property, registering their businesses, protecting their business interests and navigating through the tortuous regulatory landscape.  Our collaboration with the Founder Institute Lagos, therefore, comes out of the need to provide the necessary legal tools that the innovators at the Institute require to make them investment ready to scale."
Founder Institute Lagos and ǼLEX will collaborate to support and provide resources for the 40+ startups joining each cohort of the navy-seal programme. In addition to supporting startup founders throughout Lagos, a goal of this initiative will be to limit risk exposure at the critical early stage, facilitate regulatory compliance and ensure good corporate governance, thereby increasing the success potentials of investors and founders alike, and generally enhancing the growth of the local startup ecosystem.
According to the Director, Founder Institute, Ifedy Eze, "access to legal advisory and support is one key factor critical to the success of a startup, especially at the pre-seed stage when founders are bootstrapping and not able to afford the high-cost professional services. This partnership offers founders in the programme access to quality legal advisory and a robust bouquet of legal services ring-fenced within a deferred payment plan that ensures that they are not asphyxiated by the usually capital intensive legal demands of building a technology enterprise. ǼLEX has a demonstrated history of providing cutting-edge legal services that empowers their clients to win many times over, and that is the magic we are excited to bring to the table via this partnership."
For early-stage founders and teams up to the challenge, the Founder Institute's comprehensive step-by-step program provides the structure, mentor support, and global network of entrepreneurs needed to start an enduring company. The Founder Institute is the only program of its kind that focuses on people versus ideas, accepts founders with day jobs, and shares equity with all participants.
Speaking further about the partnership is Founder Institute's Regional Director for Africa, Chukwuemeka Fred Agbata Jnr, 'this collaboration with a reputable law firm such as ǼLEX is indeed one of the ways FI is contributing to building a more sustainable ecosystem'.
Founder Institute Lagos Cohort III commences on the 19th of August, 2020, with 40 enrolled founders.