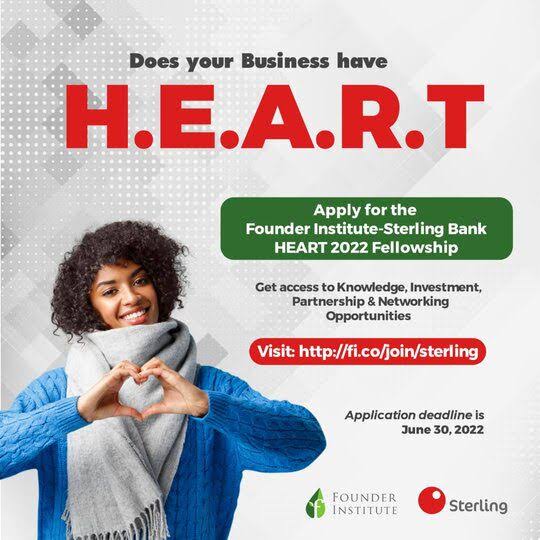 Application Deadline: June 30, 2022
The Founder Institute, the world's largest pre-seed accelerator, is proud to offer the best applicants from the Sterling Bank community with the Sterling Bank Fellowship to participate in our Lagos Fall 2022 program for free ($299 USD value).
The Founder Institute helps you get to traction and funding with a support network of startup experts that are invested in your success, and through a structured business-building process that has helped alumni raise over $1.75BN. Through the combined benefits of the Founder Institute and Sterling Bank we create an unparalleled global support network for early-stage founders to impact the present and influence the future:
A combined global community of over 15,000 mentors and thousands of alumni
Comprehensive education and structured support programs from the idea stage to the funding/ growth stage
Over $3M in Partner Deals and Resources
Who Should Apply?
Tech or tech-enabled businesses at the pre-seed stage, including both solo-founders and teams. This includes established businesses that are pre-funding and traction, MVP and prototype-stage projects, and even part-time founders with just ideas.
To apply for the Sterling Bank Fellowship for the Lagos Fall 2022 Founder Institute, visit the official website of the Founder Institute-Sterling Bank Fellowship.