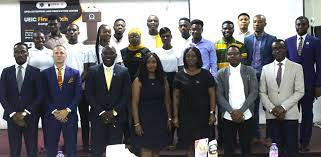 Thirteen start-ups affiliated with the University of Professional Studies, Accra Enterprise and Innovative Center (UEIC) have pitched their business plans to receive funding.
The founders of the thirteen start-ups, which included four women and nine men, took turns presenting their companies' viability and future prospects to a panel of six judges in order to secure the funding they needed to grow and hire more workers.
After the elevator pitch and selection process, five of the start-ups will be chosen and will get financial support.
The Centre is aimed at fostering the spirit of entrepreneurship by identifying, grooming and supporting students with compelling business ideas into viable businesses.
The Enterprise and Innovation Center, which opened in 2021, will provide young entrepreneurs with the necessary hands-on training to prepare them to start their own enterprises.
The students, who all completed their National Service at the Center, received the coaching and mentoring they required to launch their own firms from seasoned business professionals.
Small and medium enterprises' (SME) growth in emerging markets and developing nations is significantly hampered by access to credit.
Therefore, the initiative was a crucial and necessary program for graduates, especially at a time when unemployment had turned into a significant concern for the nation, according to Dr. Fidelis Quansah, Dean of the Faculty of Management Studies.
The initiative, she further stated, was designed to ensure that young graduates got employable skills, but particularly to offer them some training and mentoring opportunities for them to create their own businesses.
The Dean claimed that the UPSA Enterprise and Innovation Centre was founded as a pioneering, innovative, and mindset-focused response to the nationwide epidemic of graduate unemployment.
She continued by saying that as a result, the University, working through the UEIC, Innohub, and the National Service Secretariat, signed a Memorandum of Understanding.
The final pitch, according to Dr. Quansah, had become essential as a tool to give students the required abilities, resources, and support to put their best foot forward and be entrepreneurial in the Center's effort to reduce unemployment.
She asked investors and organisations to support the Centre in its efforts to train and mentor students to be entrepreneurial.
The judges, stunned by the performance of the students during the elevator pitch of their business plans, lauded them for making the move to start up their own businesses, "saying there is no better time to start a business than now."
Mr Emil Aurehoj Perssons, Partner and Head of Innovation at InspiNest, an entrepreneurship hub, said potential investors, praised the candidate's passion, energy, and ability to clearly describe not only their goals but also how novel the idea was.
According to Richard Osei Owusu, a member of the UEIC Governing Council, entrepreneurship is a must for both personal and societal development, and its expansion requires attention.
"Ghana's development will rely on entrepreneurship," he emphasised.
Therefore, he said, the UPSA continued to provide students with the necessary skills to enable them to fit into the job market after the completion of their studies.
As a result, he explained, the UPSA kept giving students the abilities they need to fit into the labor market once their studies were over.
Norizona's founder, Zainab Sulaiman, expressed optimism about receiving funding to grow her company. Norizona is a start-up that converts agricultural waste into activated carbon and then uses it to produce organic products.
The founder of Momech Auto Service, Caleb Agbodeka, stated that his company aimed to offer a means of connecting motorists with broken-down automobiles to the closest mechanic shop as quickly as possible.