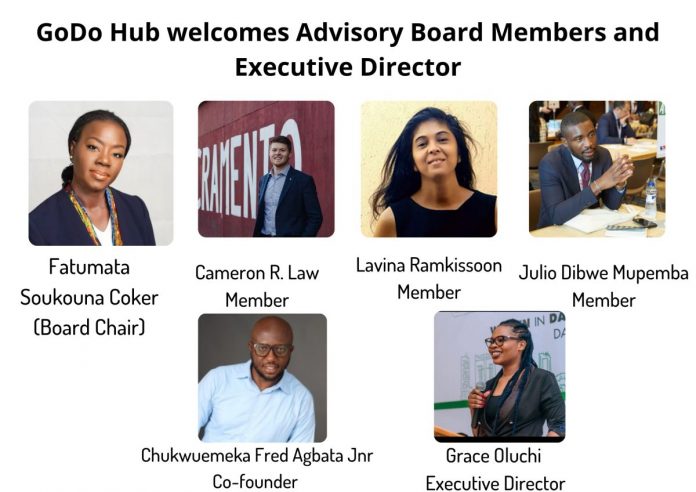 GoDo Hub is proud to announce its Advisory Board Members. This group of outstanding personalities bring with them insights and a wealth of experience needed to drive GoDo Hub to new heights as well as help it to explore more opportunities as we all work building the Africa of our dreams.
Meet the Board Members
Fatumata Soukouna Coker – Board Chair
Fatumata is an entrepreneurial business builder, turn-around specialist, and senior technology executive with over 20 years of global strategy, operational, organizational management and strategic marketing originally anchored in the USA.
She holds several Pan African roles working with multi-national and African businesses, engaging partnerships across multiple geographies to achieve business transformation through technology.
Cameron R. Law
Cameron Law is a Sacramento native who brings his vast experience in social ventures, venture capital, and management consulting to the Carlsen Center for Innovation and Entrepreneurship as the Executive Director.
Cameron is highly active in the innovation and entrepreneurial ecosystem where he serves as the coordinator of the iHub network, an organizer for a community economic development program, 1 Million Cups, where he works to empower and elevate Sacramento entrepreneurs growing a supportive ecosystem for innovation.
Most recently he was selected to serve as the Sacramento organizer for Global Entrepreneurship Week by leadership at the Global Entrepreneurship Network. He serves on the leadership team and board of FourthWave.io which is an accelerator for women-led tech businesses.
Julio Dibwe MUPEMBA
Julio is an enthusiastic advocate of startups and digital technology. He was the coordinator of the program I&P Acceleration Technologies. He holds a master's degree in Finance from the Kedge Business School.
Not only that, but he also spent five years in consulting firms (E&Y and KPMG) before becoming an independent consultant on financial issues for startups, micro and small businesses, particularly in Africa.
Julio is also a member of France Invest's Africa group, of the SenStartup investment committee, and has had the opportunity to personally invest in several African startups.
Lavina Ramkissoon
Lavina Ramkissoon is a future technology lover, yoga practitioner, an implementer, trend influencer, strategist, LinkedIn connector, a keynote speaker, mum, partial artist, dancer come writer, technologist and an AI ethics mentor, who speaks worldwide about her love for humanity, technology, economics and businesses. Featured in world summit AI, Inspired AI, Africa AI accelerator, Fem-In-Tech and WAI summit.
Chukwuemeka Fred Agbata Jnr. "CFA"
CFA wears multiple hats which are all focused on launching and supporting technology startups on the African continent. He is a Partner at Pacer Venture; Co-founder of GoDo Hub and Founder Institute's Regional Director for Africa.
For more than a decade, CFA has actively promoted the African tech ecosystem through his multi-award-winning media platforms including techbuild.africa, Tech Trends on Channels Television and ICT Clinic column in the Punch newspapers. Currently, he serves as a Director of the Innovation Support Network (ISN) Hub, a network of over 100 innovation and technology hubs across Nigeria; as well as the Treasurer of the Nigerian Internet Registration Association (NIRA), managers of Nigeria's .ng domain.
In the same vein, Godohub.org equally welcomes Grace Oluchi as the organisation's new Executive Director. She will be responsible for developing and implementing strategies that will bring GoDo Hub closer to its goal of actively contributing to an equal, inclusive, and sustainable Africa. She will also be responsible for team leadership and general management responsibilities.
She joins GoDo Hub from Centre d'Innovation de Lubumbashi (Cinolu), a tech and innovation hub in the democratic republic of Congo, where she led various projects and programs which contributed to the advancement of tech and entrepreneurship not only in DR Congo but Francophone Africa. It was there Grace Oluchi served as Hub Manager.
In 2016, she led a skill development program in Cameroon which focused on providing skills enhancement to young graduates to increase their employability. In 2019, she managed the first international tech event in Lubumbashi sponsored by GIZ organized in partnership with an organization like Kinshasa digital.
During her successful tenure at Centre d'Innovation de Lubumbashi (Cinolu), she developed and led programs like Femmes360 which empowered over 5000 entrepreneurs across 25 Francophone African countries. In 2021, Cinolu partnered with eskils4Girls and the equals digital skills fund to train over 1000 girls in DR Congo in various digital literacy programs.
Grace comes in with 9 years of experience in francophone Africa working principally in DR Congo and Cameroon. She has created projects and programs that have enabled her to have impact and experiences across the central, north, east, and west francophone African ecosystem.
She worked in some capacities where she was part of the team that created the first ACCA school in DR Congo and in under 12 months was able to start training more than 70 finance professionals. Grace Oluchi has a B.Sc. in Banking and Finance and MBA in Business Management.
Godohub.org is a creative, innovative, and tech-centric hub with the goal of actively participating and contributing to the growth and development of an equal, inclusive, and sustainable Africa. Godo Hub is a member of isnhubs.org.ng.