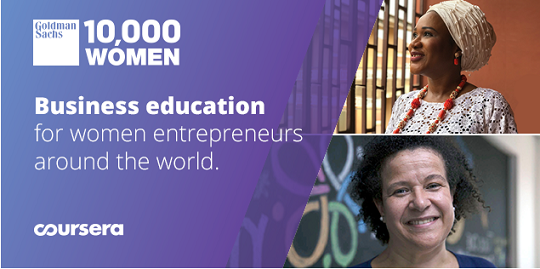 The Goldman Sachs Foundation is making its world-class 10,000 Women online business education course available to more women around the world, free of charge.
Goldman Sachs recognizes that in the current climate, leading a small business is more challenging than ever. Goldman Sachs 10,000 Women online business education program is a comprehensive and highly accessible resource, providing practical training on all aspects of business – from finance and operations to leadership, marketing and negotiation.
To support even more women around the world, the Goldman Sachs Foundation will make the online course available to a broader audience around the world.  The curriculum has also been made available in two additional languages – Spanish and Portuguese.
Goldman Sachs 10,000 Women Online is a collection of 10 courses which provide a practical business education – strengthening your business knowledge, skills and plans for growth. The courses are suitable for any entrepreneur looking to take their business to the next level.
10,000 Women is open for anyone to enroll. The collection was designed to meet the needs of women business owners in emerging economies, however there are no eligibility criteria to take part. If you're ready to grow your business, you will benefit from the range of topics covered in this innovative collection of online courses.
This world-class collection of courses covers a full range of topics from the fundamentals of finance and marketing, to your leadership style, funding, and negotiations.
These courses offer a truly flexible online learning experience. Participants have the freedom to approach the program in any way that works for them – they can take any course, or combination of courses, to tailor their learning journey to your individual business growth needs.
A key feature of this program is the creation of a powerful online network of like-minded individuals. Whether you enroll in a single course, or all 10, you will connect with business owners from all around the world, and use this unique online forum to inspire others, share advice and support your peers.
By taking part in 10,000 Women, participants will continue to join a powerful network of like-minded female business owners, becoming an integral part of a growing global network of entrepreneurs.
The Goldman Sachs Group, Inc. is a leading global investment banking, securities and investment management firm that provides a wide range of financial services to a substantial and diversified client base that includes corporations, financial institutions, governments and individuals. Founded in 1869, the firm is headquartered in New York and maintains offices in all major financial centers around the world.
The course can be found at www.coursera.org/launch/10000women.
Visit the Goldman Sachs 10,000 Women site to find out more.