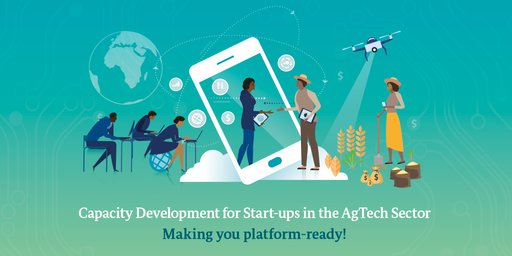 Applications are invited from AgTech Start-ups looking into integrating their product or service onto a digital platform. The program will expose participants to the benefits of integrating, bundling and supplementing your product or service with complementary data and solutions from other providers.
With the platforms, participants can expand their user base fast and cost-effectively, integrate their product or service with data and services from other providers to enhance their value proposition, and provide their service via a digital platform could open new revenue streams for their products
Selection Criteria
Impact on Smallholder Farmers
We aim to maximize impact on smallholder farmers through digital solutions. We look for digital products and services that increase productivity and income of smallholder farmers, improve resilience to climate change, expand financial inclusion or contribute to food security.
Innovation of D4Ag solution
We aim to solve problems of smallholder farmers through diverse and innovative D4Ag solutions. We look for innovators that provide distinctive and innovative D4Ag solutions or deliver D4Ag solutions in a distinct, innovative way that sets them apart.
Potential for data or service integration
We aim to create value to smallholder farmers through bundling products and services. We look for innovators with the highest potential or most specific use case of integration with data or services from other providers.
Female Entrepreneurs
We strongly encourage female entrepreneurship. It will be considered an advantage if your founding team includes one or more female entrepreneurs.
Eligibility criteria
The training will be open to up to 40 selected startups that meet the following criteria:
Based in Africa
Belonging to the AgTech sector
Already launched a digital product or service in the AgTech sector
Willingness to learn about digital solutions and integration on platforms/bundling services with third-party providers
An up-to-date venture profile on VC4A. If you don't have one yet, you will automatically be asked to create a profile when you click the "Apply" button.
WHAT YOU CAN EXPECT?
After the application period ends, we will select 40 eligible start-ups for the training program and will inform the selected ones latest by July 31st. After that, the start-ups will get access to the timetable of the training and access to another pre-online course for self-assessment regarding digital tools as a preparation for the capacity development training.
Training Program
Our dedicated D4Ag training program will empower entrepreneurs with all the skills required to integrating their D4Ag solution with data and services from other providers via digital platforms. The training will focus on three technical areas relevant for platform integration: Value Proposition & Business Modelling, Technical Interoperability, Data Analytics & Visualization

During the training, you will use weather and earth observation data in Africa and get 'hands-on' experience on how to apply your skills in practice.
As part of the training, you gain free access to both accurate weather and high-resolution earth observation data in Africa to enhance your product with weather-based and satellite-based insights. You will not only receive access to data, but access will be provided with accompanying meteorological and technical support during the trial phase.
Data access to weather data will be provided by The Weather Company, an IBM business, for a period of 5 months. UP42, a geospatial developer platform, will provide access to Earth observation data and analytics with a volume of 10,000 free credits, valid for 12 months.
Program Information
The training will take place virtually for 5 days. You should reserve approximately 4 hours each day to participate in the training.
The training will be offered at two different dates – either from the 24.08.2020 – 28.08.2020 or 07.09.2020 – 11.09.2020, according to your choice.
Application closes on July 26, 2020
If you have any questions regarding the D4Ag training program or your application, contact the D4Ag team under: make-it@giz.de.
Get more details HERE
Apply HERE