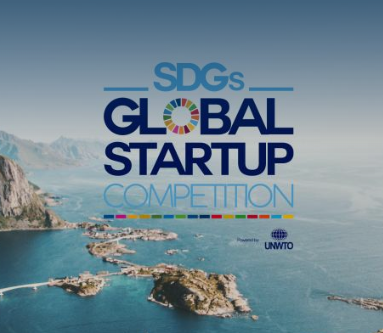 Dive into the world's largest call to reach the most disruptive startups that directly contribute to accelerate the achievement of the Sustainable Development Goals (SDGs).
Led by the World Tourism Organization (UNWTO), the UN agency responsible for promoting sustainable, accessible and inclusive tourism, this Competition aims to encourage the global innovation and entrepreneurship ecosystem to embrace sustainability and to deliver impact during the United Nations Decade of Action starting this year.
Bringing together stakeholders from a variety of sectors across the economy, this initiative sets out to reach a common goal, to set innovation at the forefront of sustainable development in corporations and destinations.
The worldwide COVID-19 outbreak has brought the world to a standstill and both, civil society and the private sector have been severely affected. Consequently, the pandemic jeopardizes all of the progress achieved thus far in terms of sustainability.
Against this backdrop of heightened uncertainty, tourism's proven resiliency and dynamic nature can be harnessed to support and reinforce recovery. Given the sector's capacity to create jobs and increase inclusiveness, UNWTO calls for a transversal, cross-sector approach to boost sustainable development all over the world.
Tourism is a major leader to the global economy and is at the centre of the most disruptive innovation. Due to its active work with startups, the sector has reached safe and experiential travelling as never before. Now, it is the time to bolster this joint effort with entrepreneurs to achieve the Sustainable Development Goals through new ways of tackling global challenges.
TARGET STARTUPS
Startups from all walks of life, from all over the world and all economic sectors are invited to participate if meeting the following criteria:
Be innovative in nature providing value-added solutions
Be sustainability-driven
Be scalable: to have potential for international growth and potential to be applied in corporations and destinations (countries, regions)
Be an Early Stage or Series A startup
Have a tested pilot and business plan
Have been accelerated before
Have a full-time team
All ways of innovation are welcome: new methods, processes, governance models, social impact initiatives, and technologies.
Categories
This Competition features 17 categories, each one representing a Sustainable Development Goal.
Each participating startup should select the SDG in which can generate the greatest impact.
Evaluation Criteria
Participating startups will be assessed according to their:
Contribution to the Sustainable Development Goals
Ease of value capture via collaboration with the startup
Potential business impact
Maturity of the product/technology
Maturity of the team and the organization
Partnership readiness
Benefits:
Benefits for winning startups include but are not limited to:
Pitch at a UNWTO Demo Day
Curated mentorship programme including one-on-one and in-group sessions focused on Intellectual Property (IP), sustainability, business and leadership
Access to technological support
Connection to the UNWTO Innovation Network
Potential pilot project with private sector collaborators and institutions
How To Apply
Get ready for your application:
Keep in mind the category or Sustainable Development Goal you will apply for
Read the Terms & Conditions (hipervinculado al PDF) of the Competition
Make an attractive pitch deck in English (no more than 15 slides)
List your web page, social media users and contact information
Once you have all of them ready, fill out the Application form in English
Timeline
Launch : 14 July, 2020
Deadline for candidatures: 20 September, 2020
Announcement of winning startups: November 2020
Pitching round for winners: November 2020
Read More About this Competition Here https://www.unwto.org/unwto-sustainable-development-goals-global-startup-competition