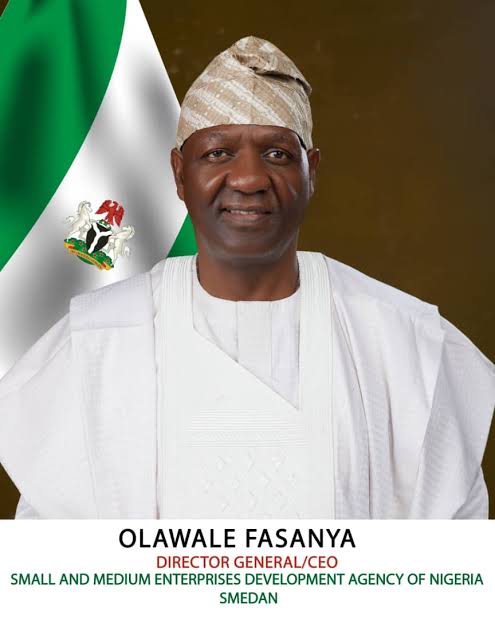 The Small and Medium Enterprises Development Agency of Nigeria (SMEDAN) says that Micro Small and Medium Enterprises (MSMEs) have the potential to spark an entrepreneurial revolution in industry, agriculture and commerce in Nigeria.
This was stated on Tuesday in Owerri by the agency's Director General, Mr. Olawale Fasanya, who also formally opened the National Business Skills Development Initiative.
Fasanya, represented by a Deputy Director in the agency, Mrs Chibuzo Osuoha, said that the initiative was designed to train and empower artisans in different skills. He claimed that the Federal Government was prepared to boost entrepreneurship to strengthen the nation's economy.
He described the importance of the National Micro, Small and Medium Enterprises (NMSMEs) sub-sector as crucial to the expansion and development of the country's economy.
"The most recent national MSMEs survey of 2020 revealed that there are 39.6 MSMEs, employing 62.5 million persons, accounting for 80.2 per cent of Nigeria's labour force.
"The statistics also contributed to 6.21 per cent of nominal GDP and exports respectively," Fasanya said. He further opined that the initiative would enhance youths' engagement in productive ventures to earn income and filling the artisanal gaps in the country.
Simon Ebegwulam, the Imo Commissioner for Commerce and Industry, commended SMEDAN for the attempt to boost the nation's economy through entrepreneurship. Ebegwulam urged the trainees to take advantage of the chance to grow their enterprises.
A participant, Mrs Chinelo Ezekwe, thanked SMEDAN for the training, saying that she would develop a business content at the end of the workshop. A different apprentice, Mr. Kingsley Okorafor, who chose to major in car washing, pledged to open a car wash.
Also in Abakaliki, Fasanya said that the programme was designed to support MSMEs "in the most practical way across the states of the federation".
According to him, the programme is in three wings, including entrepreneurship, vocational skills and empowerment. The SMEDAN boss, represented by a Director in the agency, Mr Monday Ewans, said that the major focus was on GSM repair, tailoring, catering, hairdressing and makeup.
"After the training, the participants will be empowered with equipment and materials to start their chosen business and improve on it," he said.
He said that the 90 participants from Ebonyi enrolled in fashion, leather works and GSM repairs.
The Commissioner for Human Development in the state, Mrs Ann Aligwe, commended the Federal Government for the initiative.
Aligwe charged the trainees to be focused in order to build and improve their business skills. She further appealed to the Federal Government "to deepen the campaign for states to improve on job creation."
"We need mega empowerment package. Federal Government should do more by increasing the number of participants from Ebonyi in any training programme," she said.
One of the trainees, Mariah Onwukwe, lauded SMEDAN for exposing them to modern business skills and pledged to utilise what she learnt to grow her business. The five-day programme would end on Saturday.