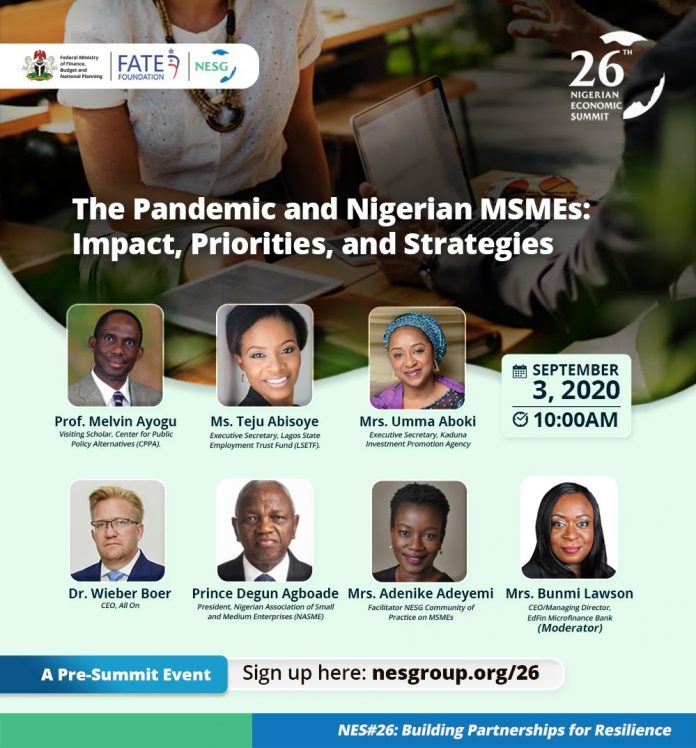 The Nigerian Economic Summit Group (NESG)'s Pre-Summit Event is scheduled to hold virtually on Thursday, September 3, 2020, at 10:00 am with the theme "The Pandemic and Nigerian MSMEs: Impact, Priorities, and Strategies". This event is being hosted by FATE Foundation in collaboration with the Nigerian Economic Summit Group (NESG).
Since 2019, FATE Foundation has been facilitating the NESG Community of Practice on MSMEs and working with NESG to address policy issues around entrepreneurship in Nigeria. With the world confronting health, social and economic crises in unprecedented proportions as a result of the pandemic, the global economy is witnessing a recession. For Nigeria, the largest economy in Africa with a population of 210 million people, the impact of the pandemic has deepened the long-term eflects of pre-existing gaps within the entrepreneurship ecosystem and Nigerian economy.
It is against this background that the 26th Nigerian Economic Summit (NES #26), themed "Building Partnerships for Resilience", will convene national and global policymakers, business leaders, development partners, and scholars to shape strategic partnerships between national and sub-national governments, businesses and the civil society to not only chart a path to recovery but, very importantly, build resilience for the country's economy, businesses, and households to put Nigeria in a strong position within the changing world order.
As a prelude to the conversations at NES #26 scheduled to hold later this year, a series of virtual conversations are being hosted to engage stakeholders around key economic issues. These conversations will form part of a 'Big Conversation for Action' for public and private sector stakeholders to reflect on the state of the Nigerian economy, rethink the country's economic fundamentals and explore emerging trends so that Nigeria can capitalize on the new opportunities and chart a path to rapid recovery.
The session will address the impact of COVID-19 on MSMEs, identify key sectors/industries impacted and vulnerable segments of the entrepreneurship ecosystem. The session will also deliberate on the efficacy of ongoing interventions and strategies to adopt for resilience within the Nigerian entrepreneurship ecosystem in a 'new economy' post COVID-19.
Please click here to register for the Pre-Summit Event and plan to attend. Participation at this event is free.