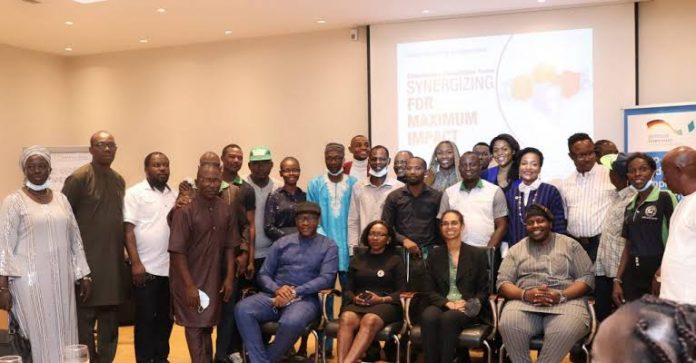 GIZ-SEDIN, an NGO, has pledged to assist in enhancing the operations of Micro, Small and Medium Enterprises (MSMEs) in the nation as part of the Pro-poor Growth and Promotion of Employment initiative sponsored in Nigeria.
This was said by Mr. Peik Bruhns, Team Leader, GOPA Worldwide Consultants, on Monday in Lagos at the pitching session for participants in the Lagos State Technical Vocation Educational Board (LASTVEB).
According to Bruhns, the organization is dedicated to enhancing and generating business development opportunities and income situation for MSMEs in the nation. GOPA Worldwide Consultant manages and implements the organization.
He claims that the objective is to use the platform to create the network that MSME companies require.
"I urge all participants to network with people around them now because they are their first customers.
"If they like your products, you will know that the markets are ready for you to explore and sell out your products.
"Most of the business ideas pitched today is very inspiring and I wish every participant great success in their various businesses," Bruhns said.
Additionally, Mr. Ismaeel Lawal, National Senior MSME Development Expert, GOPA Worldwide Consultant, stated during the ceremony that the partnership aimed to close the gap between members' entrepreneurial and vocational abilities.
Due to the fact that most individuals teach and learn solely occupational skills, Lawal claimed that entrepreneurial skills could not be used in isolation.
"The business skills are not really been handled well and that is why we are here and committed to carry out business and Entrepreneurship development skills for MSMEs as part our mandate.
"We need to ensure that business minded skills are added to the vocational training for all the participants.''
57 participants were trained, according to Mrs. Folayemisi Adu, the Chief Executive Officer of the Hope Builders Skill Development and Acquisition Foundation, an NGO that also assists in administering the program.
She claimed that for around two months, students received training in the areas of inspire (employability), create (business ideation), and start (start-up business).
About 47 participants, according to Adu, who completed the START module, presented their companies to investors and panels, and some of them were given access to finance and mentoring options.
"Our organisation has been in partnership with GOPA consultant since February 2021 to train MSMEs through the Entrepreneurship programme.
We have been able to train over 1000 beneficiaries. These MSMEs have been able to improve their business environment, gained access to finance, services and management skills," she said.
According to Mrs. Moronke Azeez, the LASTVEB's executive secretary, one of the board's responsibilities is to offer technical training to people between the ages of 15 and 19 as well as unemployed individuals.
According to Azeez, participants in the "Skill for Work" program were given special privileges, and the cooperation involved private organizations.
"We are here to groom those that want to start their businesses with entrepreneurship background and knowledge.
"I want the participants to always be patience when starting their businesses because they will face challenges and they also have need for mentors, "she said.
Mr Segun Kuti-George, a business and management consultant, advised the participants to inculcate strong passion for what they do and not give up easily in their various businesses.
Some of the panelists include; Mrs Getrude Akhimien, Chairman, the National Association of Small Scale Industrialists (NASSI); Mr Solomon Aderoju, Chairman, Nigeria Association of Small and Medium Enterperises (NASME).