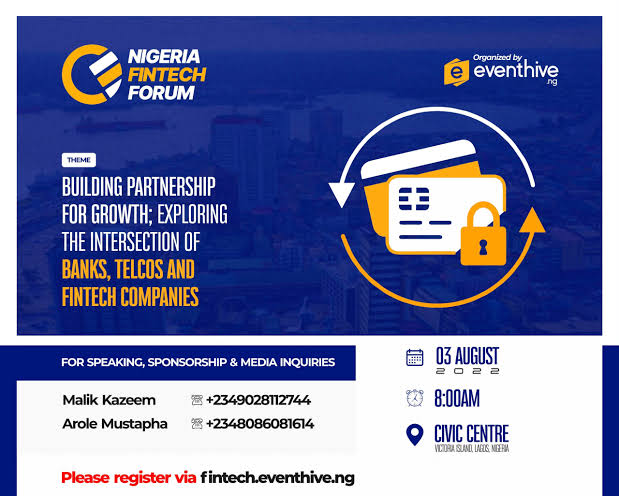 The Nigeria Fintech Forum, a premier gathering of public and private sector stakeholders in Nigeria's financial industry, has announced plans to host its flagship edition. The event will feature keynote presentations, panel discussions, breakout sessions, exhibitions, and fireside chats.
The event is scheduled to be held at the Civic Center, Victoria island, Lagos on the 3rd of August, 2022. With the theme: "Building Partnership For Growth, Exploring The Intersection of Banks, Telcos and Fintech Companies".
This event's main goal is to give participating stakeholders the chance to discuss issues that are crucial to creating an effective financial sector, such as how to further digital transformation, how to strengthen financial inclusion strategies, how to align with the regulatory environment, and other crucial discussions aimed at positioning Nigeria's fintech industry for future growth and development.
Speaking on why the event was launched, the CEO of Eventhive.ng, Jamiu Ijaodola disclosed that the event was set up to channel the interests of industry players within Nigeria's financial ecosystem with keen focus on the fintech players as they revolutionize payments and other fintech services across Africa.
He also disclosed that the event will combine conference and exhibitions, providing players with an opportunity to share their brand story and equally showcase multiple solutions that have been developed over the years.
Speaking on behalf of FTX Africa, one of the event's Gold Sponsors, Harrison Obiefule, PR & Marketing Manager (Africa), said that just a few years ago, the global financial discussion didn't include cryptocurrencies and the blockchain industry. However, that has changed.
"Every Fintech event in 2022 has a section dedicated to crypto. It shows how far the space has grown. And with FTX being one of the innovative crypto exchanges redefining the future of finance, events like this allow us to network with stakeholders in the African Fintech space and keep our users abreast with some of our new and industry-leading products," he said.
The conference and exhibition are anticipated to aid industry stakeholders in networking, learning, and defining the future of the fintech ecosystem in order to create laws that foster development in Nigeria and throughout Africa. The occasion will also make sure to display the most recent finance solutions.