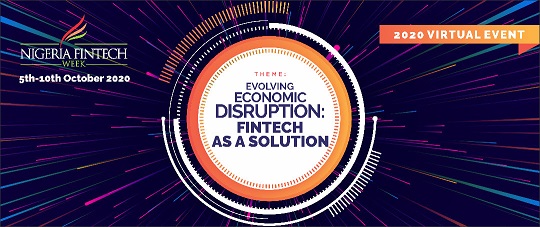 The 2020 edition of the biggest Fintech event in Nigeria- Nigeria Fintech Week has been scheduled to hold from October 5 – 10, 2020. The mission of the organisers is to foster support for the growth of the Nigerian Fintech Landscape and the World at large.
The event is organised by Fintech Association of Nigeria and Fintech Associates Limited.
This 2020 edition is themed "Evolving Economic Disruption: Fintech as a Solution" and it is aimed at 3 goals:
1.  Discover, launch and showcase new fintech solutions.
2. Direct attention and promote fintech for the growth of sectors such as health, education, logistics and eCommerce, agriculture.
3.  Elevate new frontiers of financial disruptions.
The Nigeria Fintech Week (NFW) 2020 aims to bring to limelight the new fintech solutions that can be leveraged in key important but neglected sectors such as health, agriculture, education, ecommerce, logistics amongst others.
This edition is expected to unearth paradigm shifts in innovation and the new waves of digital and financial disruptions and solutions to rescue economies of the developing countries.
Unlike previous events, this year's will be hosted online to accommodate for the safety of the attendees. To register for NIGERIA FINTECH WEEK 2020, click here.