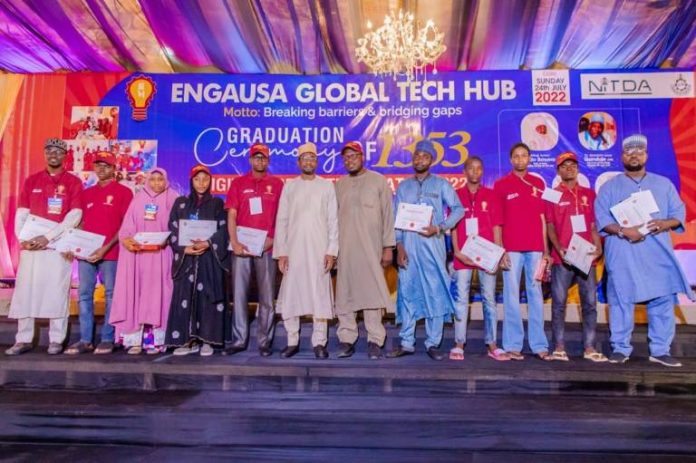 Kashifu Inuwa, the Director General of the National Information Technology Development Agency (NITDA), has described the acquisition of digital literacy and entrepreneurship as key to the nation's socio-economic drive and places emphasis on NITDA's readiness in fostering digital literacy and entrepreneurship, in order to create job opportunities for the teeming Nigerian youth as part of its strategic move to ensure Nigeria achieves 95% digital literacy by the year 2030.
Inuwa made this statement on Sunday at the graduation of 1,353 recipients of ENGAUSA Global Tech Hub in partnership with (NITDA).
Almajiris and unschooled youngsters from Nigeria participated in the graduation ceremony and showcased their skills in computer networking, drone technology, CCTV installation & access control, graphics, and other fields.
The development of computer and other digital service handling abilities in unliterate teenagers, according to Inuwa, is a significant step toward the implementation of the National Digital Economy Policy and Strategy (NDEPS) and the NITDA's Strategic Roadmap and Action Plan (SRAP 2021-2024).
The DG expressed his delight at the overall results of the training, stating that it will lead to a decrease in the unemployment rate and alleviate poverty in the country. Of the 400 participants, 30 percent established their startups, and some of them already had a workforce of 10 employees.
"I am very excited to see this graduation of 1,353 students who participated in the digital literacy programme organised by Engausa in partnership with NITDA. This further showed that we have talent in Nigeria and talent is the human component of the digital technology, therefore, we need to harness the talent for economic prosperity.
"We are graduating them mostly to promote digital literacy and digital job creation, which is part of Federal Government Digital Economy. Out of these 1,353 graduates, about 400 have started their independent busineses, employing others to work under them," he said.
The DG applauded the organizers for their efforts to translate technical terms into local language to facilitate understanding, and added that since the majority of technologically advanced countries, including France, Japan, India, and China, teach their young scientists in their mother tongues, Nigeria should think about doing the same.
Inuwa gave 100 smart devices, courtesy of NITDA, to the performing students who have excelled in various digital skills among their peers, while reiterating NITDA's ambitious target of achieving 95 percent digital literacy and its short-term plan of training one million developers in the next 18 months.
Engineer Auwal Ringim, the owner of Engausa Digital Literacy, noted earlier that the event promotes the growth of abilities and concepts from conception to actualization.
He claimed that he created the courses in programming, video editing, blogging, graphic design, web design, Android development, social media literacy, and digital marketing in order to find young people with natural talents who have not attended traditional schools and teach them the fundamentals of the digital world so they can become independent.
In his remarks, Engineer Mustapha Habu Ringim, CEO of ENGAUSA Global Tech Hub, expressed appreciation for NITDA's assistance in ensuring the scheme's success.
Having graduated 1,700 people since the program's inception in 2019, he noted that his organization has made significant progress. He added that many of the graduates work as entrepreneurs, employees of companies focused on digital innovation and renewable energy, and some are independent contractors in the field of digital technology.