Ennovate Lab, in collaboration with other partners, including the Ogbomoso Chamber of Commerce, is set to hold the first Digital Economy Summit (ODES) in Ogbomoso, Oyo State.
Chief Executive Officer of Ennovate Lab, Jesudamilare Adesegun-David, in a statement, said the summit, which will hold at The Great Hall, LAUTECH, by 10am on November 17th, 2022, and would be first-of-its-kind in Ogbomoso.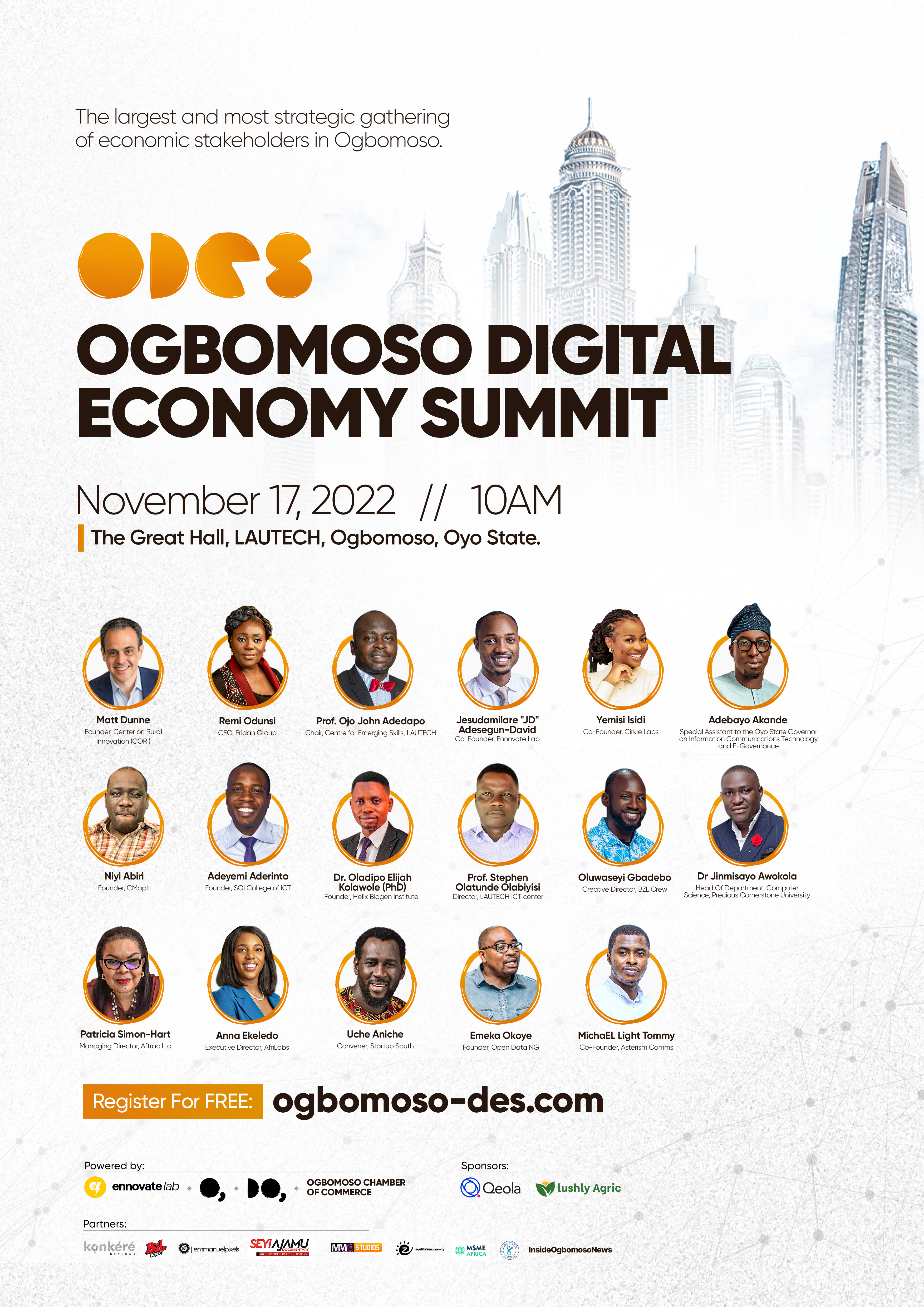 Adesegun-David described the summit as the largest and most strategic gathering of stakeholders in Ogbomoso, which aims to bring together various economic actors to foster a thriving, sustainable, and expanding economy in Ogbomoso and shape the economic landscape of the city.
"According to a World Bank report, the global digital economy equals 15.5 percent of the worldwide gross domestic product. In Africa alone, e-commerce, a digital economy component, is valued at about $115 billion, with an expectation of topping $712 billion by 2050 if everything goes on as projected. This enormous opportunity is why ODES is crucial to the future growth of Ogbomoso at this moment," he said.
The Ennovate Lab CEO said the summit is open to residents of Ogbomoso and its environs who are entrepreneurs, leaders from across academia, government or private sector workers, politicians, and decision-making members of trade or corporate organizations in Ogbomoso.
The event's coverage would include Ogbomoso's five local governments, specialized research institutes, and individuals from Oke-Ogun (including Iseyin, Saki, and Igbeti) with virtual attendance alternatives for delegates outside Ogbomoso and Nigeria.
Resource persons from Ogbomoso, Nigeria, and worldwide will bring their expertise to the table as they share through keynotes, panel sessions, and lightning talks on the varied strands of the digital economy.
Speakers expected at the summit include Matt Dunne of Centre on Rural Innovation, USA; Anna Ekeledo, Executive Director of AfriLabs; Remi Odunsi, CEO, Eridan Group; Uche Aniche, Founder, Startup South, Adebayo Akande, Special Assistant to Oyo State governor on ICT and E-Governance, Adedapo Ojo and Chairman, Centre for Emerging Skills Technology, Ladoke Akintola University of Technology.
Interested participants can visit www.ogbomoso-des.com to register (Registration is FREE but compulsory), or call 08051762471 for enquires, partnerships, or sponsorship.
ODES is organized by Ennovate Lab, an Innovation Hub on a mission to build resilient innovation ecosystems in underserved university communities like Ogbomoso. You can visit www.ennovatelab.com to find out more about them.