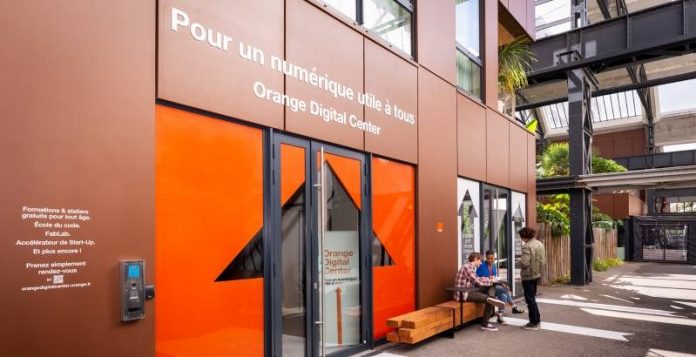 The Orange Digital Center in Sierra Leone is fully operational and equipped to host several digital trainings and events
Orange and the German Development Cooperation inaugurate the 14th "Orange Digital Center (ODC)", in Sierra Leone, a digital ecosystem entirely dedicated to the development of digital skills and innovation.
The inauguration was attended by Governmental and regulatory authorities in Sierra Leone, the German Ambassador, members of the board of Orange Sierra Leone and Orange Foundation, representatives of Sonatel and Orange Middle East and Africa and the executive committee members of Orange Sierra Leone and the GIZ Country Director for Sierra Leone, Guinea and Liberia.
Following in the footsteps of Tunisia, Senegal, Ethiopia, Mali, Côte d'Ivoire, Cameroon, Egypt, Jordan, Madagascar, Morocco, Liberia, Botswana and Guinea, it is in Sierra Leone that the 14th Orange Digital Center in Africa and the Middle East is inaugurated.
With a floor space spreading over 500 sq. m, the ODC will provide four strategic programs of the Orange group and in partnership with the German Development Cooperation, namely:
A coding school.
A solidarity FabLab – one of the Orange Foundation's digital manufacturing workshops.
An Orange Fab start-up accelerator.
The Orange Ventures Middle East and Africa (the investment fund of Orange Group that invests in the most talented startups of Orange Digital Center).
All programs of the ODC are provided free-of charge and open to everyone. The programs include a variety of digital training for young people, guidance to address project bearers, start-up acceleration and 90% of all the trainings are practical.
Working as a network, the Orange Digital Centers allows experiences and expertise to be shared between countries and offer a simple and inclusive approach to improve young people's employability, encourage innovative entrepreneurship and promote the local digital ecosystem.
Officially inaugurated today, the Orange Digital Center in Sierra Leone is fully operational and equipped to host several digital trainings and events. In addition, Orange Sierra Leone, in partnership with universities, will train students for free and roll out Orange Digital Center Clubs, extensions of the Orange Digital Center within some universities in the regions. Thus, it will complement the education system to give as many people as possible access to new technologies and support them in using these technologies to their full extent.
Orange and the German Development Cooperation are working together as part of a development partnership within the develoPPP program, which the Deutsche Gesellschaft für Internationale Zusammenarbeit (GIZ) GmbH is implementing on behalf of the German Federal Ministry of Economic Cooperation and Development (BMZ). The goal is to fulfil their shared vision, fostering youth employability while supporting sustainable growth and the country's digital transformation. The program is also working to advance gender equality and inclusion by promoting access for women and girls to ICT jobs.
This initiative is fully in line with our commitment as a responsible operator and focuses on the following sustainable development goals: (SDG 4) quality education, (SDG 5) gender equality, (SDG 8) decent work and economic growth, (SDG 9) industry, innovation, and infrastructure, (SDG 10) reduced inequalities and (SDG 17) partnerships for goals.
Brelotte Ba, Deputy CEO of Orange Middle East and Africa says: "I am honored to be present for the launch of our 14th Orange Digital Center today in Freetown, Sierra Leone, which is part of a network of 32 Orange Digital Centers that will be deployed not only in Africa and the Middle East, but also in Europe by 2023. The objective is to democratize access to digital technology for young people – with or without qualifications. We want them to be part of the digital transformation of their country by encouraging them to become digital entrepreneurs, to create local content and thus develop the digital economy of Sierra Leone."
Jens Kraus-Massé, Ambassador of the Federal Republic of Germany to the Republic of Sierra Leone notes: "I am delighted to see that our cooperation with Orange contributes to realizing the vision of a digital, innovative and resilient future of Sierra Leone and its people. Our aim is to empower every woman, every girl, every man, and every boy no matter from what background, to take advantage of the opportunities of digitalisation, to get better jobs and eventually a better live for them and their families. Therefore, I am glad that our cooperation with Orange works to this end."
Sekou Amadou Bah, Chief Executive Officer of Orange Sierra Leone says: "We are proud to inaugurate the first Digital Center of its kind in the country. The Orange Digital Center will provide state-of-the-art facilities with free access for all, reinforcing our strong ambition to democratize digital access for young people, especially women, with or without diplomas, to encourage them to pursue their venture into digital entrepreneurship and prepare them for the jobs of tomorrow. More than 1600 young people were already trained at the center with 52% of women in just one year of activity. Everything we need to see Sierra Leonean digital champions emerge tomorrow."