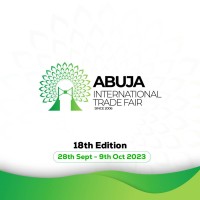 Abuja Chamber of Commerce and Industry (ACCI) President, Al-Mujtaba Abubakar, announced that the upcoming 2023 Abuja International Trade Fair (AITF) has garnered significant interest from over 10 countries and more than 500 companies. Scheduled to take place from September 29 to October 9, 2023, at the Abuja Trade and Convention Centre, along with the open field of ACCI, this prestigious multi-sectoral event in Nigeria continues to expand its influence.
Participating countries include Bulgaria, Ghana, Egypt, Switzerland, India, China, Guinea, the UAE, Syria, and others. The AITF serves as a vital platform for both domestic and international exhibitors to introduce new products, tap into unexplored markets, establish crucial business connections, unveil innovative offerings, and stay ahead of emerging industry trends.
With its strategic location in the heart of Nigeria's capital and easy accessibility to all geopolitical zones, Abuja is the ideal host city, providing a secure and advantageous environment for both local and international participants. The 18th edition of the Fair, themed "Sustainable Financing and Taxation as Drivers for the New Economy," will offer a platform for businesses to engage with financial and tax institutions, discuss current trends, and seek innovative solutions.
The theme holds significant importance for both business communities and the nation as a whole, addressing critical areas such as climate-friendly initiatives, ease of doing business, and attracting foreign direct investment. The AITF serves as a dynamic convergence of diverse industries, fostering exchanges between national and international stakeholders and facilitating fruitful interactions between businesses and government agencies.
This edition will introduce a specially designated diplomatic space, curated for foreign representations, trade missions, and international organizations to showcase their businesses, economic cooperation projects, as well as featured products and technologies. Over 500 companies are expected to participate, with more than 100,000 visitors from within and outside Nigeria anticipated to attend.
The event will feature an array of sideline activities, including business networking, B2B, B2G, and B2C engagements, special days, raffle draws, virtual and physical games, 12 days of jollof rice,' a free fashion runway show, and more. The 2023 AITF represents a crucial industry initiative, fostering connections between businesses and providing a platform for policymakers to engage with the business community, championing the promotion of small businesses and recognizing their vital role in the national economy, job creation, and overall prosperity."