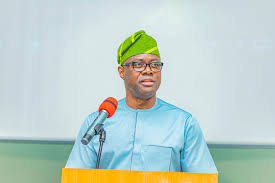 Oyo State, Nigeria – Governor Seyi Makinde of Oyo State recently showcased the vast business potential and favorable investment climate in the state during the inaugural Oyo State International Business Summit (OYSIBS) 2023 in London. The summit, themed "Accessing the Pioneer Advantage to Sustainable Investments in Oyo State," provided valuable insights and data to the business community, attracting the attention of Micro, Small, and Medium Enterprises (MSMEs).
With a landmass of 28,454 square kilometers, Oyo State offers abundant opportunities for growth and investment. Governor Makinde highlighted the state's population of over eight million people, with 60 percent falling within the prime working age range of 16 to 54. These demographics provide a competitive advantage for investors, making Oyo State an attractive market.
Furthermore, the governor emphasized the state's favorable economic indicators. In the World Bank's Ease of Doing Business Reports for subnational Nigeria, Oyo State scored well in key areas such as starting a business, dealing with construction permits, and enforcing contracts. The state's efforts to streamline property registration processes and enhance the regulatory environment have contributed to its positive performance.
Governor Makinde also highlighted the state's commitment to education and skills development, with consistent budgetary allocations to the education sector. Oyo State has prioritized agribusiness, solid minerals, sustainable energy, and tourism as focus sectors for investment, offering investors ample opportunities to contribute to the state's growth.
To facilitate investment, the state government has established the Oyo State Public Private Partnership Agency (OYSIPA) as a one-stop shop for investment opportunities. The agency serves as a crucial link between investors and various compliance regulations.
With a growing middle class and increased spending power, Oyo State presents a lucrative market for businesses. The state's GDP has grown by approximately 50 percent over the past four years, reaching $8.67 billion in 2022. Oyo State has also attracted significant foreign direct investment, amounting to $65 million.
The OYSIBS 2023 summit created a platform for investors to explore the investment potential of Oyo State and engage with government officials. Governor Makinde highlighted specific opportunities in agribusiness, solid minerals, sustainable energy, and tourism sectors, inviting investors to leverage the state's resources and infrastructure.
As Oyo State emerges as one of Nigeria's top economies, the government's proactive approach to creating an enabling environment for businesses positions the state as an attractive investment destination for MSMEs.
For MSMEs seeking growth and sustainable investments, Oyo State presents a wealth of opportunities in a business-friendly environment. The state's commitment to education, infrastructure development, and sector-specific initiatives ensures a supportive ecosystem for businesses to thrive and contribute to the state's economic prosperity.