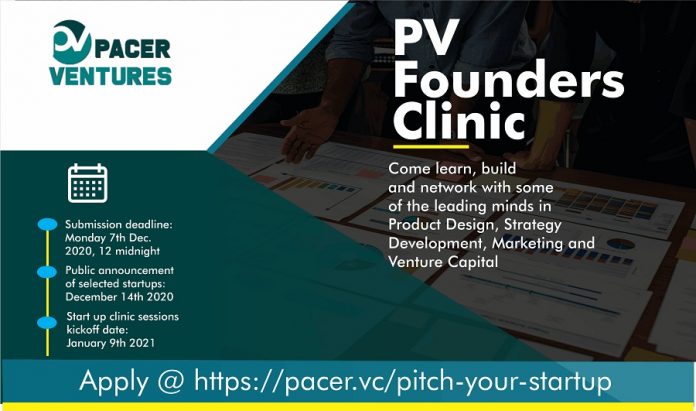 Pacer Ventures has launched PV Founders Clinic to support early-stage companies and their founding teams, with a view of building investment worthy startups.
This initiative follows the announcement of its $3M fund for early-stage startups that are solving some of the most critical problems on the continent.
The PV Founders clinic sessions will be anchored by its leadership team and select mentors with vast experience in building and scaling enterprises. According to the Managing Partner, Pacer Ventures, Gbemi Akande, 'the launch of the PV Founders Clinic flows with our mantra of going beyond writing a cheque but also working closely with founders in other areas that can help them grow. The enterprises that fit into our investment thesis stand a chance to be accepted into Pacer Ventures' early-stage portfolio companies and receive funding to support their growth.'
Successful founders and their teams will be mentored on key areas of management including strategic business development, marketing, product development, sales etc.
Interested founders can apply here and should take note of the timeline below;
The application deadline is December 7, 2020, 23.39 WAT
Selected startups will be announced on December 14, 2020.
Start-up clinic sessions kick-off date is January 9, 2021.
These are indeed interesting times for technology startups across the continent and Pacer Ventures is poised to add immense value to as many companies as possible. The firm will tap into its close relationship with Founder Institute as well as techbuild.africa to provide the needed support for portfolio companies.
Pacer Ventures has a strategic relationship with the Founder Institute, the world's premier pre-seed startup accelerator, providing investment thesis support, structure, templates, tools, deal flow, potential seed, and support across all segments of the funding operation.