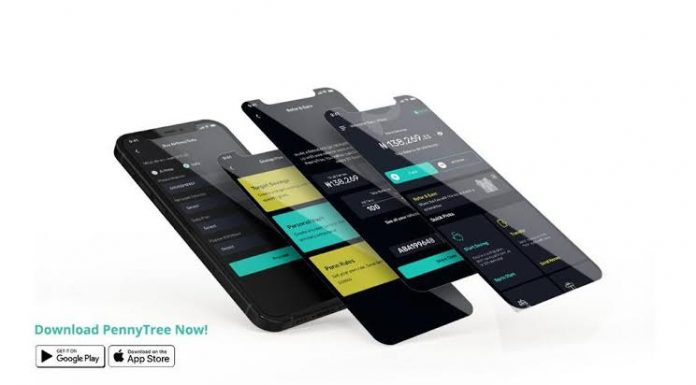 Fintech company, PennyTree, has launched its redesigned app to provide retail banking services for individuals and merchants aiming to scale and grow their business operations.
Co-founder of PennyTree, Abayomi Ogunjobi, announcing the launch on Thursday, explained that the new direction is a crucial step designed to help individuals utilize their finances and provide the needed financial and business advisory support to merchants finding their foot in their industries or looking to scale their operations.
He explained that on the new PennyTree app, users can carry out regular banking activities like transfers to PennyTree users and users of other banks, lock their funds in secure savings wallets and earn returns, create business accounts for new or existing businesses and generate invoices and receipts for their customers.
"In the last five years, small businesses in Nigeria have contributed about 48 per cent of the national Gross Domestic Product (GDP). A lot of these businesses are already thriving on their own and we believe that with the right support we can help them reach their potentials faster and even scale quickly. This is the next phase of the PennyTree journey. We want to help these businesses do more in terms of getting their stories out and getting the support they need to expand," Ogunjobi said.
He added that for merchants, the new PennyTree app provides a secure business account to manage transactions, keep track of inflow and outflow and grow conveniently.
The company also announced the launch of a merchant community to serve as a support group for merchants at different levels of scale.
Co-founder of PennyTree, Ayo Ogunlowo, said that the community will serve as a platform for merchants to connect, collaborate and grow together.
"With this community, we want to provide high-level support to business owners, create an environment where they can get easy access to advisory services and learn from each other. The community is open to merchants irrespective of where they are on their growth journey. We even have room for individuals looking to kick off side hustles but do not know where to start from. The PennyTree Merchant Community is an ideal place to start," Ogunlowo said.
According to him, the community currently boasts of merchants like Thames Spice Haven, Lela's Foodmart, Conspicuous Cakes, Oja Oye, Ade Badol, Gizmo Stores, BFH Designs, Arabella Beauty Affairs, Pink Velvet, Dami Interior, Dimex Bars, HairbySteph, Mimi's Bakeshop and Maskin Luxury.
"In addition to supporting merchants who already have their businesses running, we are supporting individuals who are looking to start theirs. We want to democratise the process of setting up a business by eliminating the blockers they face and providing guidance to help them set up and start transacting," Ogunlowo added.
Additionally, the updated PennyTree app contains new capabilities to enable users who want to perform basic banking tasks and invest or preserve their money in a safe, convenient, and secure wallet. Users of the program can periodically lock money away and receive interest, which fosters the development of better spending habits.
PennyTree, which was first introduced in 2021, has changed through time with the goal of continuing to assist Nigerians who want to do more with their money. The organization is now committing to making it possible for companies to expand more steadily and control their income.
The new PennyTree App can be downloaded from the Apple App Store or Google PlayStore.