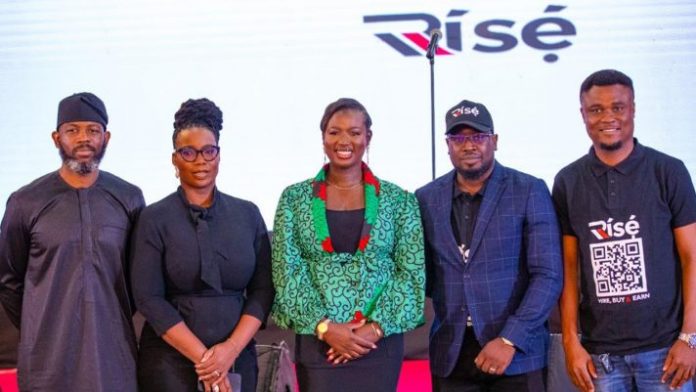 Rise.ng, an online talent marketplace, has outlined strategies to equip 36 million Nigerians with the skills and certificates needed to connect artisans with customers, create jobs, and stop the brain drain of the nation across the 36 states of the federation.
According to the Chief Executive Officer/Founder, Olawunmi Akalusi, The project's goal is to provide Nigerian youth with the information and skills they need to launch and run successful enterprises.
At the program's recent unveiling at the Oriental Hotel in Victoria Island, Lagos, the commissioner of budget and planning for the state of Lagos, along with other dignitaries, were present.
Akalusi claims that the initiative will change 36 million people in Nigeria by enhancing their potential through in-depth training and internships. Then, to reach a bigger audience for business opportunities, list them on the rise.ng portal. Project Empower also intends to support young self-employment, transforming them into valuable assets for the nation's economy.
Business ideation, business development, corporate governance, customer acquisition, and marketing growth management are among the intervention areas listed by the initiative's founder, while the skilled workshop will concentrate on fashion, hair, carpentry, plumbing, catering, interior design, agriculture, alternative energy, digital marketing, graphics design, coding, website design, and media & entertainment.
Speaking on the programme execution framework, she said: "Each state of the country will have approximately one million selected applicants through online registration. The one million applicants will be trained in five batches per state bi-annually. The first batch will be done within the next six months.
"Our partners in Harvard Business School and other partnering institutions will deliver the online training. The final evaluation and selection of the candidates that will qualify for funding under the Project Empower Programme will be by a panel made up of senior management staff of partner financial institutions, and other eminent members made up of successful entrepreneurs and professionals.
While reaching out to intending partners, she said, "Empowering 36 million people is not a joke so, we need support from every sector to ensure that this is a success. We don't want our best talent exported to other countries, we need to ensure that everybody has a level of expertise and by then we will have a better nation. We have people leaving the country for greener pasture, building other countries, so, what's going to happen to our country if we don't build and empower them with everything they need to build successful businesses?
"If we have good electricity, half of our problems in Nigeria will be solved so, the government should also help us."
Speaking on the criteria for selecting the beneficiaries, Akalusi explained, "The plan is to partner with state governors and private sector to ensure that we have a seamless process. On the selection, everything is on our website and it's open to all."
On how the programme can be maximised, Lagos State Commissioner for Economic Planning and Budget, Samuel Egube, said: "It's about working together. Over 50 per cent of Lagos's population are young people and that is why we are paying a lot of attention to all the spaces around young people. We are building several stadia at the same time, and we are also building technology spaces because we want to be the technology hub for Africa and it's the reason we are laying fibre optics and it's attracting significant investment. We know that the future belongs to the youth so we are going to be activating a lot of conversations with young people.
"This is a solution that is leveraging technology a lot and attracting investment into Lagos. What we want in Lagos is that when we talk about quality artisans, we should be proud to say Lagos bricklayers, Lagos plumbers, Lagos tillers, carpenters and others, that is what we want to say and this particular initiative is foundational to achieving that kind of dream."
On the support the government will be providing for Rise, he said: "I am here to give them a very strong moral support, the Lagos State Employment Trust Fund (LSETF) is arranging a platform like this to give citizens the visibility for their work, and a platform that works in a manner that improves the KYC of artisans so that they are well known; a platform that encourages additional certification and improvement and a platform that can teach customer service experience, that way the culture, attitude and the value system of our artisans will improve.
"It's time the artisans know that if they are not organised, they will not be visible. The reason it's difficult to tell the size of artisans is that they are not organised and platforms like Risé will help organise them and put more value on them."