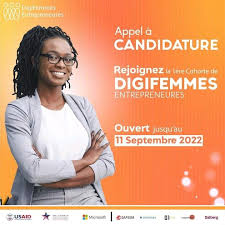 Women entrepreneurs in Côte d'Ivoire, on the south-eastern coast of West Africa, can now apply to join DigiFemmes Entrepreneurs, a technical assistance programme empowering them to run and grow successful businesses.
DigiFemmes Entrepreneurs is part of the DigiFemmes programme which supports existing women-led small and medium enterprises (W-SMEs) in their growth journeys, creating a robust pipeline of new businesses, and working with ecosystem stakeholders to build a supportive environment for digital skills in Côte d'Ivoire.
DigiFemmes is said to combine an innovative, yet proven pedagogical approach to skills training with a built-in sustainability mechanism to ensure that the programme is impactful, scalable, and sustainable.
The model follows a systems-thinking approach and works with existing W-SMEs on addressing the data and digital skills needed to grow their businesses. Helping new W-SMEs gain digital skills to launch and validate their businesses or increase their employability, the programme is also supported by a supportive ecosystem of stakeholders such as governments, investors, and entrepreneurship support organisations.
DigiFemmes aims to create a more supportive environment for skill development in female founders. It is implemented by consortium partners SAFEEM, Seedstars Côte d'Ivoire, Empow'Her Côte d'Ivoire, ​​Dalberg, and Edu01. The program is funded by the US Government's USAID and the Millennium Challenge Corporation (MCC), in partnership with Microsoft.
Training Procedure
Women taking part in the DigiFemmes Entrepreneurs programme will go through a nine-month training through which they will be equipped with data and digital skills for their businesses as well as provided with access to entrepreneurial capacity-building programs that can take them to the next level of maturity.
Eligibility Criteria
Participants must be women from Côte d'Ivoire who are dedicated to fully completing the intensive capacity building.
Where will the programme hold? 
The programme will primarily take place in Abidjan and San Pedro. In addition to these, light-touch training will be delivered to 720 existing women SMEs, and awareness-raising sessions will be available to ecosystem enablers in Yamoussoukro, Bouaké, Daloa, and Gagnoa.