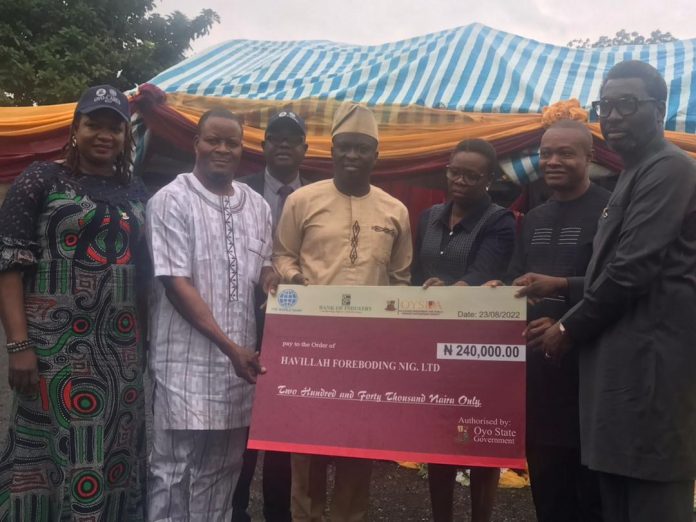 Small and Medium Enterprises (SMEs) under the aegis of the Oyo State Government of Nigeria, have received grants and loans from the World Bank/Federal Government-Assisted Project tagged "NG Cares," which was also titled "Oyo Cares."
The Oyo State Investment and Public Private Partnership Agency (OYSIPA) office in Ibadan, the state capital, made the presentations on Tuesday.
The government came up with the idea for the effort to lessen COVID-19's negative effects on enterprises, which include job losses and the closure of some businesses.
Beneficiaries include Small and medium-sized business owners who had trouble repaying loans taken out during COVID-19 and those who had trouble running their enterprises as a result of COVID-19.
The Commissioner for Budget and Planning, Prof. Musbau Babatunde; his Finance counterpart, Mr Akinola Ojo; and Director-General OYSIPA, Ms Lola Olutola while presenting dummy cheques to some first batch beneficiaries, explained that Oyo was the first state in Nigeria to disburse the fund.
"This is a dream come true. Nigeria was just recovering from recession when COVID-19 came. The economy almost collapsed. We approached the World Bank for a solution, and that's what culminated in Oyo Cares today. This initiative will have multiplier effect on the economy. We thank Governor Makinde for the support he has been giving this project," Babatunde said.
Speaking, Ojo said Oyo Cares was embraced because it was in line with Governor Seyi Makinde's vision of bringing people out of poverty and into prosperity. She added that the initiative was the government's way of empowering entrepreneurs.
The first category of recipients would receive support in the form of helping those who acquired loans during COVID-19 to pay back around 40% of the balance of their outstanding loan, according to Mr. Akin Makinde, project manager at Oyo NG-CARES.
In this case, according to Makinde, the borrower will only be made aware that some money has been paid on his or her behalf after the amount has been remitted directly to the originating microfinance bank.
He added that the second category of recipients will receive operation subsidies between the amounts of N120,000 and N240,000 to help manage their businesses.
For a period of six months, the money will be deposited directly into the company's account, according to Makinde.
Cyril Anyanwu, the state manager for BoI, revealed that the money would start to disappear from the recipients' bank accounts on Tuesday (yesterday). He also urged them to put it to good use.
He praised the Oyo state government for embracing the NG-CARES program intended to lighten the burden of COVID-19 on the populace.
Some of the beneficiaries, Havilllah Foreboding and Cornerstone Educational Consult commended the NG-CARES as touching the existence of businesses and the needs of the downtrodden.