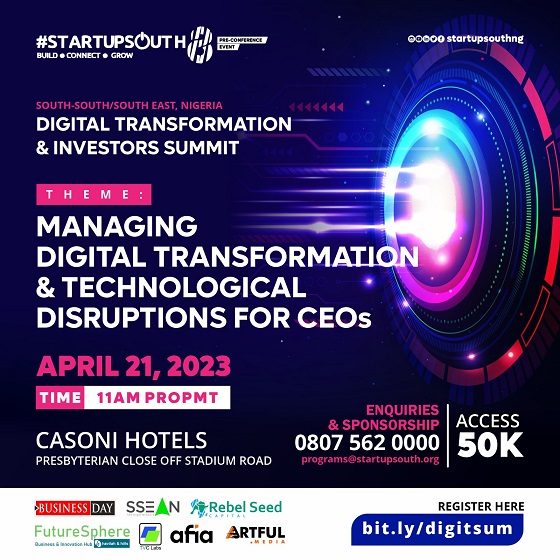 Over one hundred elite business leaders from within (and beyond) the South-South and South-East regions of Nigeria will converge in Port Harcourt, the Rivers State Capital City on Friday, April 21, 2023 for the Digital Transformation & Investors' Summit.
Now in it's 8th edition, #StartupSouth Conference is an annual convening of top founders, stakeholders and investors within the Startup (Digital & Creative Economy) ecosystem in Port Harcourt with Pre-events held in several cities across the South-South/South-East.
The Summit which is being organised by #StartupSouth in partnership with BusinessDay Newspapers will highlight the impact of Digital Transformation for High value business Leaders, promote business longevity & Sustainability by spotlighting the opportunities for Corporate Innovation while highlighting/mitigating the risk of technological disruptions. The Summit will also provide a platform for networking as well as an opportunity to deepen the regional innovation ecosystem.
In a Statement, the organisers disclosed that the Summit whose theme is "Managing Digital Transformation & Technological Disruption for CEOs" is expected to draw participants from key Stakeholders that include Manufacturers Association of Nigeria, Port Harcourt Chamber of Commerce, Industry, Mines & Agriculture, Nigerian Society of Engineers, Delta Chamber of Commerce, Industry, Mines & Agriculture, Nigerian Employers Consultative Assembly, representative of IOCs to mention just a few.
Key features of the Summit include expert presentations & keynotes, panel discussions, book unveiling, Startup pitches and Award presentations to Winners of the 2022 Startup Awards by #StartupSouth.
Some of the Speakers include Mr. Tomi Davies, President, African Business Angel Network (ABAN) whose book – The Investment Worthy Startup – will be unveiled in Port Harcourt at the event. Others are Mr. Emeka Okoye, Founding Partner, Rebel Seed Capital, Lilian Ochugbuo, Head of Digital Sales, BusinessDay, and more.
Speaking about the Summit, #StartupSouth Convener, Mr. Uche Aniche said he believes the regions' economic potential will be greatly enhanced through the adoption of digital transformation and corporate innovation by stakeholders. He expressed optimism that the Summit will accelerate the expansion of the regional Startup Ecosystem which his organisation has championed for almost a decade.
The Digital Transformation & Investors' Summit is the first Pre-event of the organization's flagship #StartupSouth Conference (Now in its 8th Edition) scheduled for on later in the year. The Summit is supported by organizations that include South-South-East Angel Network (SSEAN), Rebel Seed Capital (Port Harcourt's based Venture Capital firm), Futuresphere Hub, TVC Labs & AfiaTV.  Participation is by invitation or by registration via https://bit.ly/digitsum
StartupSouth Enterprise Development LTD/GTE (#StartupSouth) is a digital/creative economy ecosystem development & advocacy organisation and a community of creatives building high-value/growth ventures in Nigeria (particularly the South-South/South-East regions). We are inspiring a generation of founders to build innovative and scalable solutions in the nation's emerging commercial cities. We are supported by organisations that include (but are not limited to) Google (through Google Developers), Meta, The Ford Foundation, Sterling Bank, MainOne, Bank of Industry and others to reach thousands of founders annually through our conferences, events and programming.