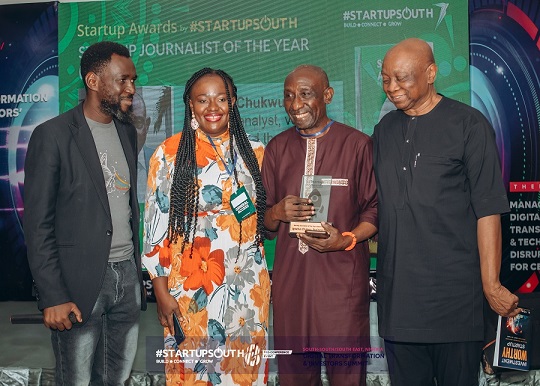 Kingsley Eze (founder of Tenece & Genesys Technology Hub), Ukinebo Dare (Chairman, Board of Directors, EdoJobs) and Ken Saro-Wiwa Foundation were officially unveiled as winners of the second edition of the Innocent Chukwuma Award for Innovation. 
While Kingsley Eze and Ukinebo Dare were announced as joint winners in the Individual Category, Ken Saro-Wiwa Foundation won in the Organization category. 
The Award (a Jury's Choice Category within the Startup Awards by #StartupSouth) is awarded in honour and memory of Late Innocent Chukwuemeka Chukwuma to an individual who through their work is contributing in a recognizable way to deepen Innovation Ecosystem in Nigeria with a clear commitment to Inter-generational Investment.
Winners in other categories include Oscar Obiora, Edupoint Limited (Inspirational Founder of the Year – National), Ejatwo Mukoro, Techbridge City (Inspirational Founder of the Year – Regional), Xend Finance, Enugu (Startup of the Year – National), 9Jacodekids, Port Harcourt (Startup of the Year – Regional), Foris Labs, Onitsha (Next Rated Startup), Her Tech Trail, Port Harcourt (Most Inspiring Startup Community), Enugu SME Centre (Public Institution of the Year – Regional) and Corporate Affairs Commission (Public Institution of the Year – National). 
In the media categories, Nigeria Info Port Harcourt won two awards in the Best Startup/Technology Show – Radio and Best Startup Coverage (Radio) while  Arise TV emerged as the Best Startup Coverage TV (National). Other winners are Vanguard Newspapers (Best Startup Coverage – Print), Lions' Den (Best Startup/Technology Show in Nigeria (TV), Pulse (Best Startup Coverage), Rivers State Television (Best Startup Coverage TV (Regional) and TechCabal (Best Technology Blog). 
Ignatius Chukwu (BusinessDay) and Ikechukwu Nzeakor (Daily Independent) were announced as the joint winners of the Journalist of the Year Award (Merit) Category. Full list of winners' profiles  and descriptions for each category can be found here (Startup Awards by #StartupSouth 2022 Winners ). 
Speaking at the Presentation, Uche Aniche, the Convener, #StartupSouth said the Awards were instituted to honour those living out the organisation's ethos. "As an ecosystem development and advocacy organisation, it is our way of recognising and rewarding the behaviours we want to see more of", he said. 
In his remarks, the keynote Speaker Mr. Tomi Davies, President, African Business Angel Network (ABAN) whose book – The Investment Worthy Startup – was unveiled at the event, commended the organisers and called for more corporate organisations to support the nascent ecosystem. He donated Two Hundred Thousand Naira (N200,000.00) worth of his book to Award winners present at the ceremony. 
In his response, Mr. Kingsley Eze thanked the organisers for the recognition and pledged his willingness to raise the bar even higher. He called for more collaboration among stakeholders saying "our individualistic nature and personal drive, which appeared to be our key discriminating competency in the past, are gradually becoming obsolete in the new global economic order. Partnerships and networks work more today. "Ike Otu onye" should give way to "Igwe bu Ike". Top global corporations like Google, Facebook, Apple, Microsoft, etc., were all built on partnerships and collaborations." 
On her part, Ukinebo Dare assured "I will endeavour to in my little way continue to contribute to the great and enduring legacy of Mr. Chukwuma" and thanked the organisers for the honour.
Speaking on behalf of Arise TV, Mr. Andy Omano-Omano while also thanking the organisers, said the Station since inception has been pro-people – noting that the Award is a wake up call not to rest on its oars as well as a call for more coverage to the ecosystem. He pledged the Management's  commitment to rise to the challenge.
Speaking on behalf of the Innocent Chukwuemeka Chukwuma Empowerment Foundation, Mrs Josephine Effah-Chukwuma, the Director and Widow of Late Innocent Chukwuma congratulated the winners of the Award and urged them not to relent in their respective endeavours towards deepening the innovation ecosystem which has the potential to create wealth, more opportunities for especially young people and reduce restiveness across the country. 
About StartupSouth
StartupSouth Enterprise Development LTD/GTE (#StartupSouth) is a Startup ( digital/creative economy) ecosystem development & advocacy organisation and a community of creatives building high-value/growth ventures in Nigeria (particularly the South-South/South-East regions). We are inspiring a generation of founders building innovative and scalable solutions in the nation's emerging commercial cities. We have been supported by organisations that include (but are not limited to) Google (through Google Developers), Meta, The Ford Foundation, Sterling Bank, MainOne, Bank of Industry and others to reach thousands of founders annually through our conferences, events and programming.
About Startup Awards by #StartupSouth
Startup Awards by #StartupSouth is an annual community choice Awards to celebrate innovators in Nigeria was held in 2022 as part of #StartupSouth7 but the presentations took place during the Digital Transformation & Investors' Summit in Port Harcourt on April 21, 2023. 
About #StartupSouth Conference
Now in it's 8th edition, #StartupSouth Conference is an annual convening of top founders, stakeholders and investors within the Startup (Digital & Creative Economy) ecosystem in Port Harcourt with Pre-events held in several cities across the South-South/South-East. 
About Innocent Chukwuemeka Chukwuma Empowerment Foundation (ICCEF)
Innocent Chukwuemeka Chukwuma Empowerment Foundation (ICCEF) was setup by the family in memory of Innocent Chukwuma – foremost Civil Rights Leader and immediate past Regional Director, West Africa at Ford Foundation – was an early leader and exemplar who spotted the need for inter-generational investment in innovation.