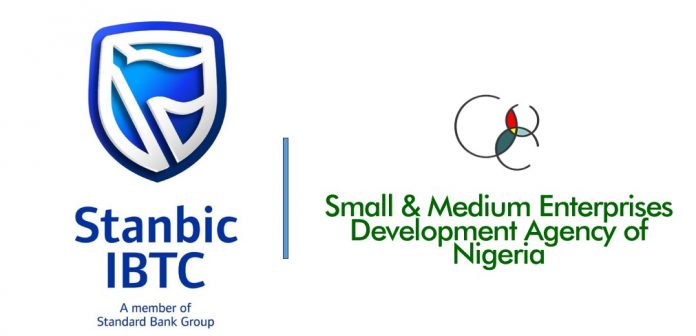 In a bid to strengthen and support the Small and Medium Scale Enterprises (SMEs) in Nigeria, Stanbic IBTC Bank PLC, a subsidiary of Stanbic IBTC Holdings PLC, has reaffirmed its unwavering commitment to the growth and development of these vital businesses.
To actualize this commitment, the bank recently sealed a strategic partnership agreement with the Small and Medium Enterprises Development Agency of Nigeria (SMEDAN) to provide specialized training to 3000 SMEs across various states in the country.
This collaboration aligns seamlessly with Stanbic IBTC's Enterprise Academy training program, which has successfully trained over 5000 SMEs since its inception in 2021. The bank's dedication to the SME sector stems from its recognition of its pivotal role in driving economic growth and creating job opportunities.
Mr. Wole Adeniyi, Chief Executive of Stanbic IBTC Bank, emphasized the significance of SMEs in the country's economic landscape. He stated, "SMEs are the backbone of our economy, and we acknowledge the vital role they play in driving economic growth and creating employment opportunities. Through our partnership with SMEDAN, we aim to empower SMEs with the knowledge and tools needed to thrive in today's competitive business landscape."
To ensure a wide reach and benefit for SMEs across the nation, the Enterprise Academy training program will be conducted in key states from four geopolitical zones: Enugu, Port Harcourt, Ibadan, and Abuja.
The training sessions under this partnership will cover a diverse array of topics, including business planning, financial management, and digital marketing strategies. SMEs are encouraged to embrace this invaluable opportunity to enhance their skills and capabilities.
Dr. Olawale Tunde Fasanya, Director-General of SMEDAN, expressed his satisfaction with the collaboration, recognizing the pivotal role of trusted financial partners in SME growth. He commended the partnership with Stanbic IBTC Bank, acknowledging its commitment to empowering, equipping, and accelerating the growth of SMEs, thus amplifying their positive impact on the nation's economy.
Stanbic IBTC Bank's Enterprise Academy training program is thoughtfully designed to equip SMEs with the necessary tools to overcome challenges, optimize their operations, and achieve sustainable growth. It provides SMEs from various sectors with an enriching platform to learn, network, and access customized solutions tailored to their unique business needs.
With the synergistic partnership between Stanbic IBTC Bank and SMEDAN, the Nigerian SME ecosystem is poised to experience a transformative boost, fostering a more resilient and thriving business landscape in the country.