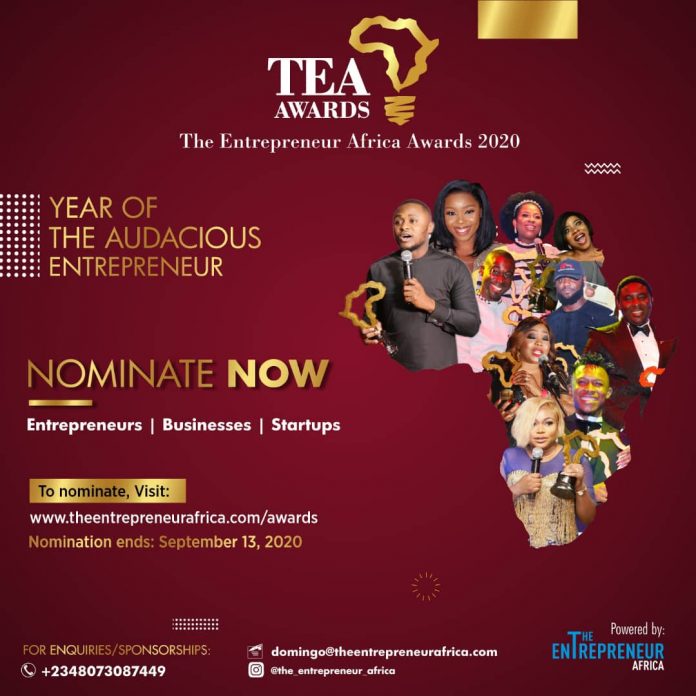 The Entrepreneur Africa (T.E.A) Awards is Africa's most exciting and highly participatory award ceremony for all classes of entrepreneurs. The ceremony, which is now in its 4th year, has directly impacted more than 50,000 businesses and individuals since inception, through the publicity, brand visibility, networking opportunities, synergies/Partnerships, recognitions, and business support generated by the awards. The Entrepreneur Africa (T.E.A) Awards is a reward for innovation and enterprise.
The award event is organized by The Entrepreneur Africa (T.E.A) 360 Ltd, an entrepreneurship-lifestyle organization with focus on African businesses and the people behind them.
The 2020 Edition is tagged: Year of The Audacious Entrepreneur. The 2020 Awards seek to recognize and celebrate dogged, die-hard and audacious entrepreneurs who have 'taken the bull by the horn' by re-purposing, re-strategizing and rebuilding their brands; creating in the process, resilient businesses that have been able to withstand the effects of this great economic reshuffle caused by COVID-19.
The awards are in different categories.
For  more details  and to nominate , click HERE