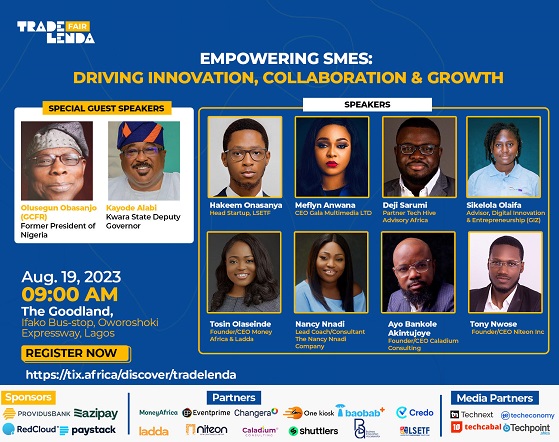 Trade Lenda Fair, Nigeria's premier SME gathering, is thrilled to announce the participation of two distinguished leaders as guest speakers for the upcoming event. Former President, Olusegun Obasanjo, and the Deputy Governor of Kwara State, His Excellency, Mr. Kayode Alabi, will share their insights and expertise at the highly anticipated Trade Lenda Fair.
Scheduled to take place on August 19 at The Goodland, Ifako Bus Stop, Oworonshoki Expressway,Lagos, the Trade Lenda Fair aims to empower and connect Small and Medium-sized Enterprises (SMEs) while fostering economic growth and innovation across Nigeria.
"We are humbled and privileged to have former President Olusegun Obasanjo and Deputy Governor Kayode as our esteemed guest speakers at the Trade Lenda Fair. Their participation highlights the significance of this event in driving economic development and empowering SMEs across Nigeria," said Oyindamola Olaniyan, Acting COO at Trade Lenda.
The Trade Lenda SME Fair will also feature experts, thought leaders across the SME industry and successful entrepreneurs.
Attendees can expect to see a dynamic lineup of engaging speaker and panel sessions, masterclasses, pitch competition, networking opportunities, an exhibition showcasing innovative products and even an after party! In addition, they also get free products and exclusive discounts on products.
Registration for Trade Lenda Fair 2023 is still open, and we encourage people to secure their FREE tickets as spaces are limited.
Get your tickets here: https://tix.africa/discover/tradelenda
Trade Lenda SME Fair is proudly sponsored by Redcloud, Eazipay Providus Bank, Paystack and supported by Kwara State, LSETF, Lagos Business School, MSME Africa, Money Africa, Changera, TechPoint, Tech Cabal, Tech Economy and Tech Next!
About Trade Lenda
Trade Lenda is a leading digital bank dedicated to empowering small and medium-sized enterprises (SMEs) in Nigeria. Through a comprehensive suite of financial services, including loans, savings and insurance, Trade Lenda aims to drive economic growth, financial independence and create a thriving ecosystem that supports the success of SMEs.