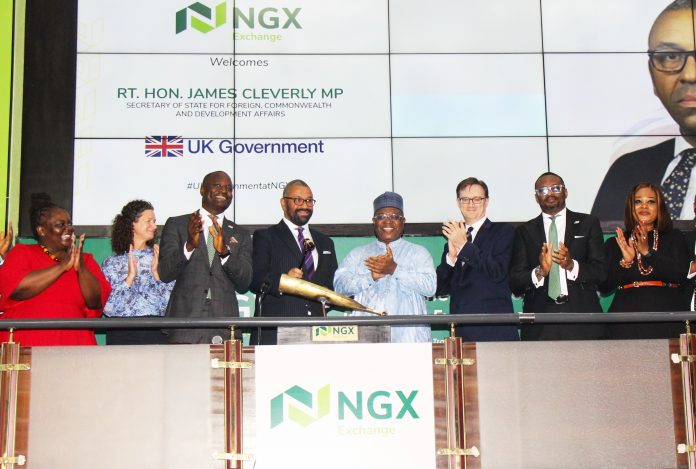 The United Kingdom (UK) has reaffirmed its commitment to strengthening investment ties with Nigeria and leveraging its partnership with Nigerian Exchange Limited (NGX) to unlock the country's economic potential. In a groundbreaking announcement, the UK government unveiled the Mobilising Institutional Capital Through Listed Product Structures (MOBILIST) partnership with NGX, aimed at facilitating increased investment in sustainable development within Nigeria through products listed on the Exchange. The announcement was made by Rt Hon. James Cleverly, UK Secretary of State, Foreign, Commonwealth and Development Office (FCDO), during the closing gong ceremony at the NGX.
Cleverly emphasized that NGX's activities possess a magnetic allure for attracting investment, and investment plays a crucial role in fueling economic activity, generating profits, and unleashing the economic potential that ultimately leads to job creation and prosperity for both Nigerians and the global community.
As part of its commitment to sustainable development, the UK government expressed its desire to witness more dual listings, and it recognizes the significance of investing in developing countries, estimating a need for at least $3.9 trillion in additional financing to achieve sustainability goals. The UK government aims to bolster Nigeria's economic potential and foster even stronger partnerships with NGX, encouraging listings and investments in the capital market.
The Chairman of Nigerian Exchange Group Plc, Umaru Kwairanga, commended the UK's commitment to achieving climate neutrality by 2050 and its progress in transitioning to renewable energy sources. NGX is fully devoted to fortifying its existing relationship with the UK, fostering deeper partnerships, and embracing collaborations that will drive growth and progress.
Temi Popoola, Chief Executive Officer of NGX, highlighted the UK's pivotal role across various aspects of the Nigerian capital market. He expressed NGX's dedication to working closely with the UK government to expand digital transformation, enhance capital flows, promote sustainability, and actively contribute to climate change mitigation in the capital market.