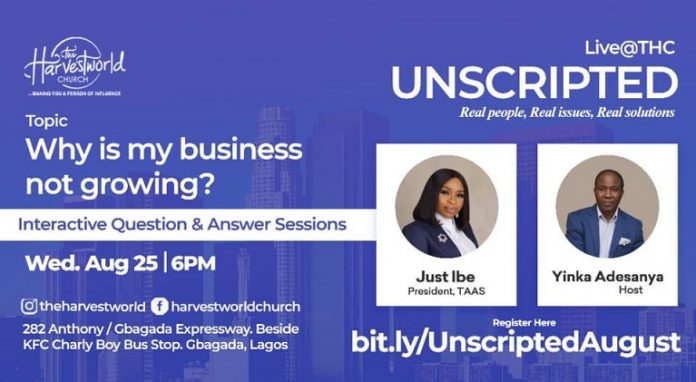 Unscripted Live, a flagship and media event  of The Harvestworld Church – THC for young urban population is going a step further in helping business owners to start, manage and grow profitable businesses.
According to Yinka Adesanya , host of Unscripted Live and Lead Pastor at THC " statistics has it that 6 out of 10 new businesses in Nigeria and Africa will die before their 5th anniversary. Therefore, any business that is not growing, may likely join the numbers above".
In view of this, the  August 2021 edition of Unscripted  Live @THC has been dedicated to enterprise growth in Nigeria and Africa.
Unscripted Live will be hosting a leading Business Startup Consultant and Founder of The Association of African Startups-  TAAS, Just Ibe. Yinka Adesanya further revealed that IBE will will be sharing and unraveling reasons why many businesses are not growing. She will also share growth strategies that she has used to help many businesses all over Africa and beyond.
The event holding on Wednesday
August 25th, 2021
at The Harvestworld Church – THC, 282 Anthony/Gbagada  Expressway. Beside KFC. Charly Boy Bus Stop. Gbagada Lagos will require registration by all the participants both in person and Online at
bit.ly/UnscriptedAugust
Admission is Free & Interactive while time remains 6pm.
The Harvestworld Church is a 21st century apostolic ministry designed to make young urban population persons of influence.