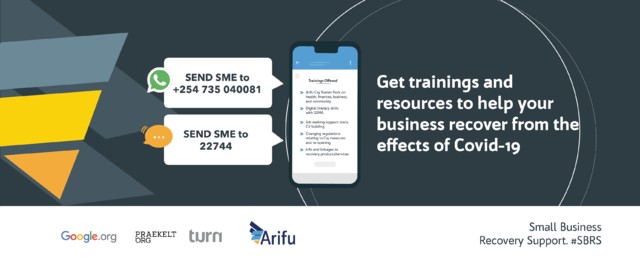 Together Arifu and Praekelt.Org have created a suite of free interactive training and information to help MSMEs hit hard by COVID-19 navigate challenges to their business, stay up to date on regulatory changes, and access products and services that will support their recovery.
By sending in the code "SME" to Arifu's SMS or Whatsapp channel, MSMEs are now able to chat with the Arifu Digital Adviser to access targeted digital trainings on:
COVID-1 9 specific advice on health, finances, business, education, and stress management
Digital literacy skills for business (adapted from GSMA's Mobile Internet Skills Training Toolkit)
Job seeking support tools
Changing regulations relating to COVID-19 measures and re-opening
Info and linkages to recovery products and services
This free service will be provided to 500,000 low income MSMEs, employment seekers, and small-holder farmers across Kenya, Nigeria, and South Africa with the objective to increase employment, increase income, and increase resilience to economic shock among beneficiaries. It will be available on Arifu's Open Marketplace, accessible using interactive SMS and WhatsApp through an integration with Turn.io, an organisation incubated by Praekelt.org that helps social impact organisations have chat-based personal, guided conversations at scale that improve lives.
MSMEs can access their free economic recovery content by sending SME to 22744 on SMS or on Whatsapp +254 735 040081 in Kenya or sending Hi to +27 60 011 0110 on WhatsApp in South Africa.
Craig Heintzman, Chief Executive Officer and Co-Founder of Arifu, explains "We're proud to join forces with Google.org, Praekelt.Org and Turn.io to play a part in supporting the economic recovery of people impacted by this global pandemic. Governments, NGOs, and companies can now easily support the employment of job seekers and resilience of small businesses in their communities with this free chatbot-based learning content".
Gustav Praekelt, Founder Praekelt.org and Turn.io said "We are excited to be using our Turn.io technology to provide actionable resources and training to learners and SMMEs across Kenya, Nigeria and South Africa during this challenging time. We chose to work with Arifu given their vast experience with learning content having trained over 1.5m learners in Kenya since they started so we're very comfortable in their ability to deliver to the huge learner base out there"
"Google.org are very pleased to support Praekelt.org and Arifu joining efforts and together accelerating tech solutions helping SMMEs in Kenya, Nigeria and South Africa through economic recovery.  We believe that  accessing information at no cost will be critical for beneficiaries to make informed decisions and sustain economic livelihoods" commented Liza Belozerova, Google.org Sub-Saharan Africa Lead.
About Arifu
Arifu is a smart chatbot making it possible for anyone to access information and opportunities for free from organizations they trust over any mobile phone. With Arifu, people seeking to learn can freely chat using interactive SMS or smartphone apps to master new skills, discover a world of free educational content, and earn rewards from our partners, without need for internet or airtime. The Arifu chatbot delivers personalized content designed in-house in close collaboration with our partners such as financial service providers, mobile operators, agribusinesses and NGOs. Arifu uses interactive SMS and smartphone messaging apps like WhatsApp and Facebook Messenger to disseminate content to over 1.5 million trainees across Africa since 2015. For more information visit https://www.arifu.com
About Praekelt.Org and Turn.io
Emerging out of Praekelt.org's decade of experience leveraging mobile technology to solve some of the world's largest social problems, Turn.io helps social impact organisations have personal, guided conversations that improve lives at scale.
About Google.org
Google.org, Google's philanthropy, supports nonprofits that address humanitarian issues and apply scalable, data-driven innovation to solving the world's biggest challenges. We accelerate their progress by connecting them with a unique blend of support that includes funding, products, and technical expertise from Google volunteers. We engage with these believers-turned-doers who make a significant impact on the communities they represent, and whose work has the potential to produce meaningful change. We want a world that works for everyone—and we believe technology and innovation can move the needle.