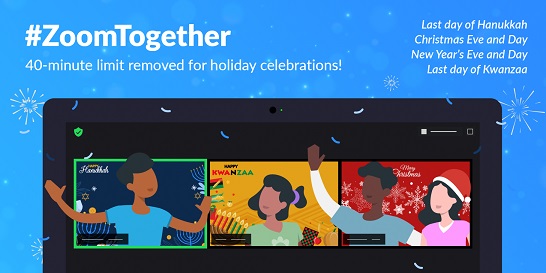 Zoom has announced that the 40-minute meeting limit on its free accounts will not apply, during the holidays, across the world.
A statement from Zoom says "COVID-19 has changed how we live, work, and celebrate in 2020, and like everything else this year, the holiday season doesn't look the same. As a token of appreciation to our users during an extraordinary time, we're removing the 40-minute limit on free Zoom accounts for all meetings globally for several upcoming special occasions.
"Whether coming together on the final day of Hanukkah, celebrating Christmas, ringing in the New Year, or marking the last days of Kwanzaa, those connecting with friends and family won't get cut short.
The dates and times for unlimited meetings are:
10 a.m. ET Thursday, Dec. 17, to 6 a.m. ET Saturday, Dec. 19
10 a.m. ET Wednesday, Dec. 23, to 6 a.m. ET Saturday, Dec. 26
10 a.m. ET on Wednesday, Dec. 30, to 6 a.m. ET on Saturday, Jan. 2
Zoom also noted that users do not need to do anything to remove the limit — it will be automatically lifted during these designated times.
To enjoy wonderful virtual get-togethers with loved ones Zoom has advised users to protect their sessions from uninvited guests by requiring a meeting passcode to join and enabling waiting Rooms. They should also desist from sharing meeting IDs on social media or other public forums
Zoom also encourages users to update their Zoom client to ensure they have all the latest product and security features, or sign up for a free account to schedule and host meetings.