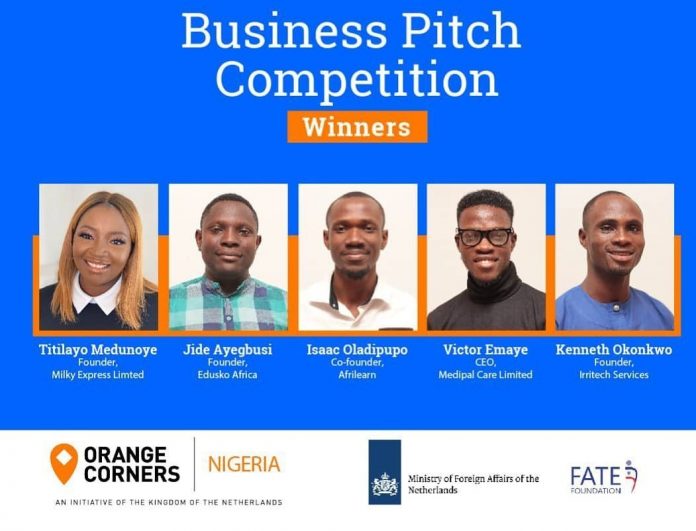 Orange Corners Nigeria has announced the 5 entrepreneurs who won the 2nd Orange Corners Nigeria Business Pitch Competition.
Orange Corners is an initiative of the Kingdom of the Netherlands in collaboration with Fate Foundation as a local service provider in Nigeria.
The Virtual Pitch competition took place on Thursday, 25 June, 2020 to determine the winners of the Orange corners Innovation Fund Track 2.
The Jury for the business pitch was made up of Pradeep Pahalwani, Serial entrepreneur and MD Securisk Insurance Brokers Ltd, Temitope Onitiri; Partner Audit/CM, KPMG Nigeria and Timothy Spaans, Deputy Programme Manager, Orange Corners, Netherlands Enterprise Agency.
Funding of up to 135,000 Euros (75% grant and 25% loan) cash financing will be distributed amongst the winners.
Titilayo Medunoye of Milky Express, Jide Ayegbusi of Edusko Africa, Isaac Oladipupo of Afrilearn Victor Emaye of Medipal Healthcare and Kenneth Okonkwo of IrriTech emerged 1st, 2nd, 3rd, 4th and 5th place winners respectively.
A statement from Orange Cornerss Nigeria says "We are so proud of all the OCN 2 Incubatees who have committed themselves to the 6 month incubation programme and have shown dedication and growth even in this challenging times. Welldone!"
Applications for our OCN 3 are still open. See details HERE