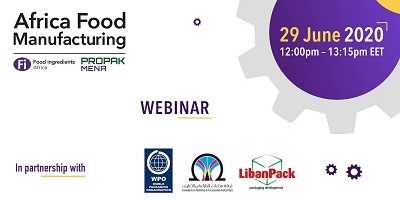 African Food Manufacturing will hold a webinar with the theme F&B Packaging Safety Measures in Times of COVID-19 on June 29, 2020
The spread of the novel corona-virus has had impacts across all sectors. As health authorities and scientists around the world work towards identifying solutions to bring the situation under control, across the world packaged goods are in high demand.
Africa Food Manufacturing Featuring Fi Africa & ProPak MENA brought together three of the food packaging industry leaders in the world and the region to share their views on the role of packaging in a pandemic. The presenters will be talking about: – The global packaging challenge in achieving sustainability in a Covid19 world, Packaging safety measures in times of covid-19 in Egypt and Contamination from packaging.
Event speakers are Prof. Pierre Pienaar, President, World Packaging Organization, Ahmed Gaber, Chairman, Chamber of Printing & Packaging Industries, Egypt, Soha Atallah, President , LibanPack
Register HERE