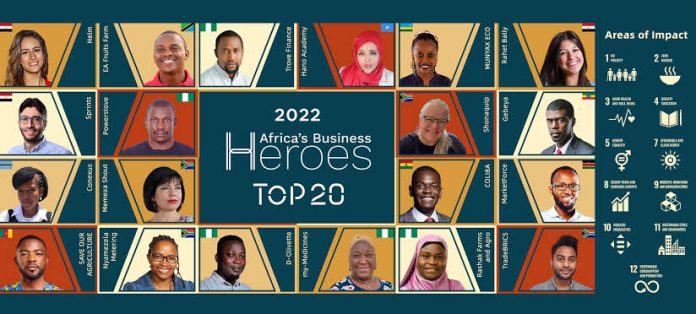 20 Entrepreneurs around Africa have been selected for Africa's Business Heroes 2022.
21,000 entrepreneurs from all 54 African countries applied for the 2022 Africa's Business Heroes Competition. After a rigorous screening and evaluation process, and in-depth interviews, the Top 20 finalists have been identified.
The individuals are nationals from 11 countries, 10 sectors, are 50% female. The finalists are all inspirational, successful, and impactful changemakers!
Here's the list of the Top 20 
1. Abimbola Adebakin – my-Medicines Pan African Limited from Nigeria
2. Amadou Daffe – Gebeya Inc
3. Ayman Bazaraa – Sprints.
4. Amena Elsaie – Helm
5. Elia Timotheo – East Africa Fruits Co.
6. Dr Sadiyo Siad – Hano Academy
7. Flavien Kouatcha Simo – SAVE OUR AGRICULTURE SARL
8. Elmarie Pereira – Memeza Shout (PTY) Ltd
9. Matsotso Vuso – Nyamezela Metering
10. Francine Munyaneza – MUNYAX ECO
11. Nadia Gamal El Din  – Rahet Bally
12. Melissa Tafila – Conexus Proprietary Limited
13. Oluwatomi Solanke – Trove Finance
14. Okey Esse – Powerstove Energy
15. Rahmah Aderinoye – Rashak Farms and Agro Allied Limited
16. Prince Agbata – Coliba Waste Management Services Limited
17. Shona Mcdonald – Shonaquip Social Enterprise
18. Shaarad 'Sha' Maharaj – TradeBRICS Pty Ltd
19. Tunde Adeyemi – D-Olivette Global Enterprise
20. Tesh Mbaabu – MarketForce Technologies
ABH What's Next?
In September 2022, the top heroes will undergo a rigorous due diligence process which, combined with their Round 2 scores, will help us determine our Top 15 heroes. The Top 15 finalists will then flown into Kigali, Rwanda for ABH first in-person semi-final since 2019!
ABH's panel of esteemed judges will then determine the Top 10 Business Heroes of 2022 after a marathon day of pitches on the 30th of September.
The Grand Finale and culmination of this year's exciting competition will take place at the end of November.