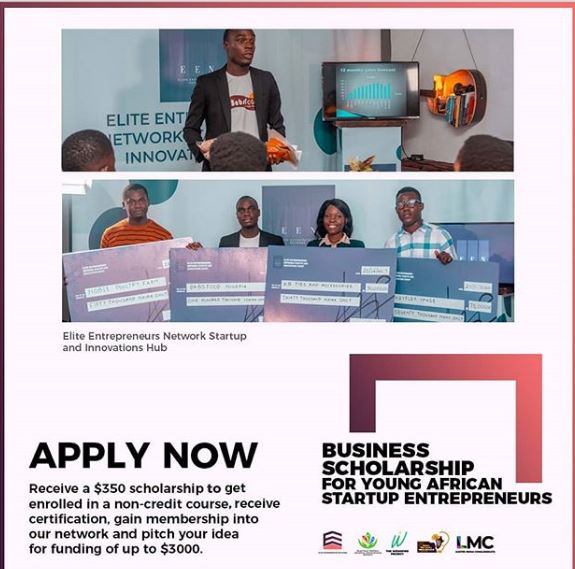 Elite Entrepreneurs Network is a platform for young entrepreneur to be trained, nurtured and empowered to actively participate in building and transforming the economies of nations by driving practical oriented solutions to tackle basic problems of economies.
The Elite Entrepreneurs Network has empowered over 3,000 young entrepreneurs and startup founders across Africa in the past 6 months through scholarship and grants program for young African entrepreneurs
What we are offering
Out of several entries from across different African states, we are selecting at least 500 young entrepreneurs to be empowered through our scholarship and grants program every month. Entrepreneurs who get selected for our scholarship program get enrolled in a non-credit course from the Elite Entrepreneurs Academy tagged "Startup Fundamentals".
Startup fundamentals offers an insightful introduction to the entrepreneurship process. It is a guide on how to move your ideas or skills, profitably, from your mind to the market. This course covers the four basic processes that helps an entrepreneur build sustainable businesses. This course explains ideation and how to come up with ideas that would be profitable in the market. The course also covers feasibility analysis, how an entrepreneur can conduct a valid feasibility study, Business planning and business model design as well as strategic execution. For entrepreneurs who are hoping to get started and get it right in business, this is the best point of entry. This course offers the knowledge that you need in order to build a rock-solid business that can withstand the challenges of business startup.
The scholarship offers its recipient a basic membership into the Elite Entrepreneurs Network which gives students the chance to pitch their business ideas and innovations for funding as this is open to only members of the network.
Who should apply:
This is for entrepreneurs not less than 18 years old with business ideas to execute or an active business not more than 2 years old. It is also a great opportunity for employees who are transitioning into the business world. Finally, it is the best place to start for entrepreneurs who want to improve their business strategies and processes.
What this scholarship covers:
Course Tuition – $270
The course tuition gives you access to the course "Startup Fundamentals" and all its content including several hours of lessons, classes, lectures and assessments.
Startup Kit – $80
This is a collection of books and video materials beneficial to your success as an entrepreneur, to be given to you at the end of the scholarship program.
Get more details and apply HERE