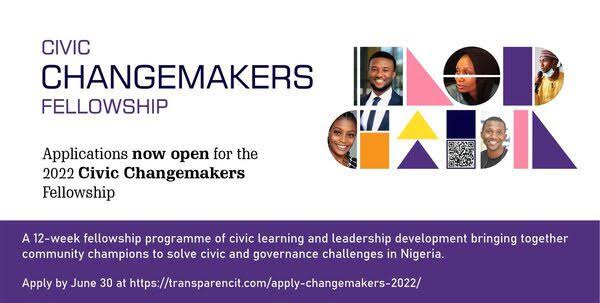 Deadline: June 30, 2022
The Civic Changemakers Fellowship Programme is a civic innovation and governance training aimed at empowering community champions who are working or have the ambition to work on solving civic and governance challenges.
Every year, TransparencIT selects and invites ten (10) active community champions to develop and scale solutions for disrupting civic participation and improving governance and social justice in their communities. For three (3) months, the Changemakers learn through engagement, training, group work and networking to advance their activities and projects.
The sole objective of the programme is to make a difference in the lives of our communities by developing the combination of knowledge, skills, values, and motivation of the changemakers to foster and implement citizens driven solutions.
The programme was designed to create a positive impact using the Sustainable Development Goals (SDGs).
The core components of the fellowship comprise parallel training in experiential learning, leadership development, inclusion, innovation and management framework. 
WHO IS ELIGIBLE? 
The programme is open to emerging changemakers who are:
Between the ages of 18 and 35 at the time of application.
Citizens and residents of Nigeria at the time of the programme.
Passionate about solving social justice and governance challenges in their communities.
Available to attend both online and on-site activities of the programme.
Proficient in speaking, reading, writing and understanding the English language.
Women and people living with disability are encouraged to apply.
Click HERE now.
Deadline: June 30, 2022