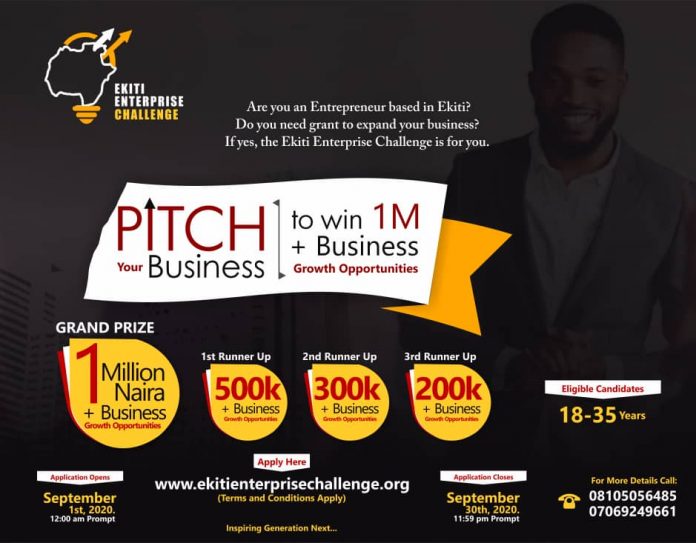 Application commenced on September 1, 2020 and closes on 30th September 2020
Ekiti Enterprise Challenge (EEC 2020) is a Social Impact Driven Community based enterprise Pitch competition designed to be an annual event for  Brilliant Creative, Gifted, Talented  and innovative entrepreneurs  who resides and are established in Ekiti Communities with business ideas which have potential to create decent work and sustainable jobs, grow  exponentially and scale beyond Ekiti local Market to a National and Global Market.
The vision and impact deliverable of Ekiti Enterprise Challenge is to identify, discover, support and mentor creative and innovative young Ekiti entrepreneurs with business ideas that have potential to grow exponentially beyond Ekiti Local Market and scale up their market reach. The Ekiti Enterprise Challenge planned to hold during the UN Global Entrepreneurship Week between November 16 – 22, 2020.
The winning enterprise will receive a Grant Prize of One Million Naira (N1,000,000) while 3 runner ups will awarded consolation Prizes of Five Hundred Thousand Naira (N500,000), Three Hundred Thousand Naira (N300,000) and Two Hundred Thousand Naira (N200,000) respectively.
Eligibility
Business Established & Resident in Ekiti State: Intending participants must have business established and resident in any of the communities in Ekiti State
Applicant Between 18-35 Years Age Bracket: EEC is open to Young Entrepreneurs residents in Ekiti State who fall within the 18 to 35-year age bracket
Business Must Have passed through ideation stage: Business idea passed through ideation stage, be at least 12 months old, and already generating revenue
Business Have Potential For Exponential Growth: Must have innovative product & services with sustainable business model that has potential to grow exponentially and scale beyond local market to national & global market
Business registered with CAC & have corporate bank account: Business Must have been registered with CAC must have a corporate bank account with a corporate Governance Structure
Get more details HERE
Apply HERE