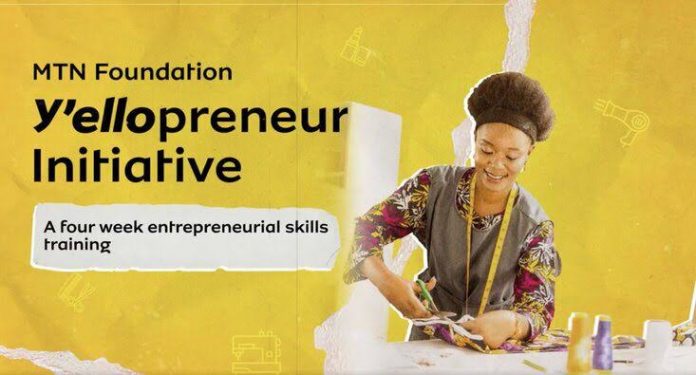 Entries for the MTN Y'ellopreneur program will close on July 20, 2022, MTN Foundation said on its website. This is against some media reports that entries for the program were billed to end on July 8, 2022.
The initiative by MTN Foundation is designed to provide capacity-building and funding opportunities to qualified Nigerian female entrepreneurs, in collaboration with the Bank of Industry.
The MTN Y'ellopreneur aims to contribute to the reduction in women's unemployment and advance women's development in 'Entrepreneurship' through capacity building to enhance their entrepreneurial abilities.
According to MTN Foundation, it is committed to bridging the female entrepreneurial skills gap, through a 4-week virtual training program meant to ultimately empower more female folks, in alignment with the Federal Government's Sustainable Development Goals Agenda.
The participants of the training who meet the set criteria for selection of the top 100 entrepreneurs, will receive equipment loans of up to N2 million, to enable them to grow and sustain their businesses.
Upon full payback of the equipment loan, grants would be extended to those who meet expectations of the credit terms.
Benefits of MTN Y'ellopreneur
Each female entrepreneur will receive up to a N2million equipment loan subject to their business plan analysis.
The repayment period is 6 months moratorium and 36 months repayment period.
Eligibility Criteria
Female entrepreneurs who display passion and commitment to self-employment and run an existing business of two years and above in manufacturing, processing, agriculture, ICT/digital services, financial services, etc. The focus is on businesses that source raw materials locally.
The Training is free. You are not required to make any payment.
How To Apply: 
For all applicants that reach the application requirements for MTN Y'ellopreneur should click link below to start the loan application.
Enter First Name, Surname, Other Name. Select your gender, date of birth, your age range, marital status enter your email, your phone number and alternative phone number then click yellow button Next.
More Personal Details: Select your state of origin, Local Government of Origin, select your Residence State, Residence LGA, residents Address and select your education Qualifications then click yellow button Next.
Select how did you hear about the MTN Y'ellopreneur, employment status, and if you have a business select Yes and state your business, if not select No then click yellow button Next.
Select if you have access to internet by using a laptop/tablet or mobile phone, if you attend others programme online training select it, select if you attend any ICT training before, States why did you interesting entrepreneurship training, select if you are available for entrepreneurship online training and Select Rate your Social media knowledge then click yellow button Next.
Upload your passport. You need to upload your a valid means of National identification. Check the box and agree the MTN. It is important to also view the terms before clicking on Submit bottom
To apply, click HERE.