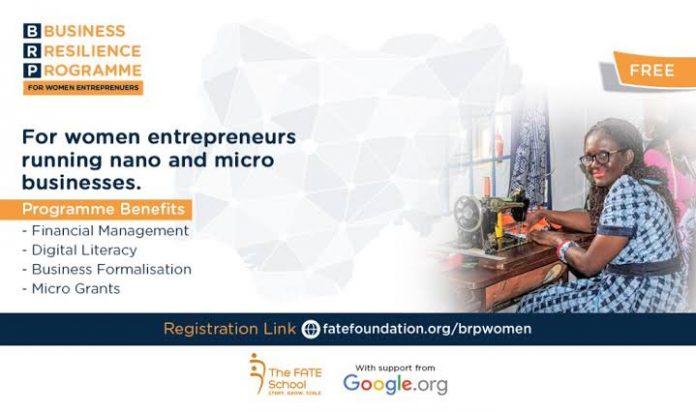 • Online Sessions to begin on Feb 13, 2023 
• Physical Sessions to hold in Lagos, Ogun, Edo, Kwara & Abia 
FATE Foundation in partnership with Google.org has launched the Business Resilience Programme (BRP) for Women Entrepreneurs for 2023.
This program is funded under the Google.org "SSA Women Entrepreneurship Programme'' and is part of a continent-wide program running across Nigeria, Kenya and South Africa aimed at improving the digital and financial capability of female nano and micro business entrepreneurs between the ages of 18 and 55 years.
Having received $1M USD grant from Google.org to improve the financial and digital capacity of Micro-women entrepreneurs in Nigeria, Kenya, and South Africa, the program will provide beneficiaries with required fundamental financial literacy;
business management knowledge;
digital literacy skills;
growth support (including business registration, network, and community building);
and micro-grant financing to underserved female-led businesses in Nigeria.
Specifically, the BRP will support female entrepreneurs with businesses at the nano and micro levels in two phases:
Phase I:
Self paced fully online 4 week program
Access to Business Plan Developer Tool
Phase II:
Hybrid program led by experienced financial and digital literacy for entrepreneurs experts
Business Registration Support
Micro Grant support
Eligibility for Phase II will be dependent on completion of all Modules and requirements from Phase I.
Program Information
The curriculum will cover teaching female entrepreneurs in Nigeria the following:
✓ Financial Management
✓ Business Plan Development
✓ Digital Marketing
✓ Accessing Funding
✓ Business Networks
✓ Confidence Building
Benefits for Participants in Nigeria
✓ Micro Grant financing to 200 participants
✓ Free Business Registration for 200 participants
✓ Free access to Foundation's Business Plan Developer Tool
✓ Certificate of Completion
✓ Opportunity to be featured on FATE Foundation's or the partners Social Media pages
Targeted Beneficiaries
> Female entrepreneurs who run nano (less than 3 employees) and micro (between 4 to 9 employees) businesses in Nigeria.
> A minimum of secondary school completion qualification.
> Ability to understand and communicate in English.
> Access to the internet and a Smartphone device with the ability to use the device.
> Special consideration will be given to women who are breadwinners, widows, and single parents.
Application Deadline – 10th February, 2023