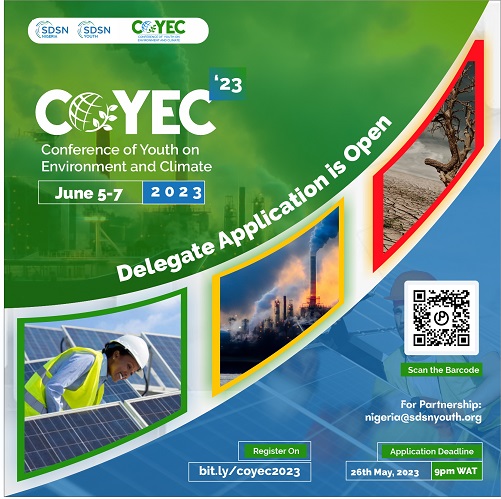 The Conference of Youth on Environment and Climate (COYEC) is a 3-day hybrid event aimed at bringing together young leaders and climate actors from different regions of Nigeria. COYEC'23 is anticipated to, among other things, encourage young people in Nigeria to participate in environmental and climate actions in their communities, foster collaboration and partnerships among youth-led organizations, and contribute to the development of new ideas and solutions for environmental and climate issues specific to Nigeria through the sharing of experiences and knowledge.
The conference will provide hands-on training and opportunity for participants to learn from experts on a range of environmental issues, including climate change, biodiversity loss, renewable energy, and sustainable development.
The goal of COYEC is to provide young leaders and climate actors with the necessary knowledge and capacity to take action toward solving climate and environmental challenges in Nigeria. The theme of the event is "Youth-led Actions for Climate Resilience and Sustainable Development."
Programme Structure and Timeline
The conference is a hybrid event, with a mix of Keynote lectures, Plenary and Parallel Sessions, Technical presentations, Panel Sessions, Roundtables, Workshops, Exhibitions, and among others. The event will commence with a nationwide campaign on 5th June 2023, further with the main Conference on the 6th and 7th of June 2023 in Ibadan, Oyo State, Nigeria.
Delegates are to register via https://forms.gle/HTrpdtyVUytTVXD36. The deadline for physical participants to register is 26th May 2023 while registration for virtual participants ends on 3rd of June 2023.
To book an Exhibition Stand at the Conference, register at https://forms.gle/eSLaaCtCDHEU8Uzr7
For Partnership, kindly send an email to nigeria@sdsnyouth.org.
Powered By: United Nations Sustainable Development Solutions Network, Nigeria