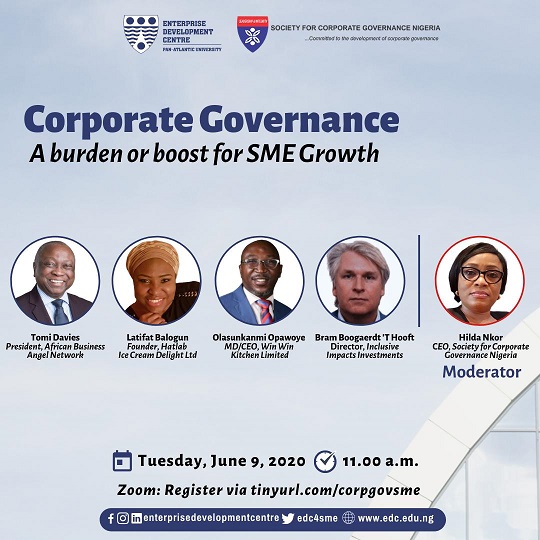 Enterprise Development Centre (EDC) in collaboration with Society for Corporate Governance Nigeria (SCGN) will be hosting a webinar to discuss Corporate Governance and the growth of Small and Medium Entreprises.
The theme of the conversation is 'Corporate Governance: A Burden or Boost for SME Growth'. The conversation will provide a perspective on the endless opportunities and benefits of corporate governance for small businesses.
The Seminar which will be moderated by Hilda Nkor, CEO, Society for Corporate Governance Nigeria will parade as speakers, experts who include Tomi Davies, President, African Business Angel Network, Latifat Balogun, Founder,Hatlab Ice Cream Delight Limited, Olasunkanmi Opawoye, MD/CEO,WinWin Kitchen Limited and Bram Boogaerdt 'T Hooft, Director,Inclusive Impacts Investments.
Date for the event is Tuesday, June 9, 2020 and time is 11 am.
Register for the session HERE