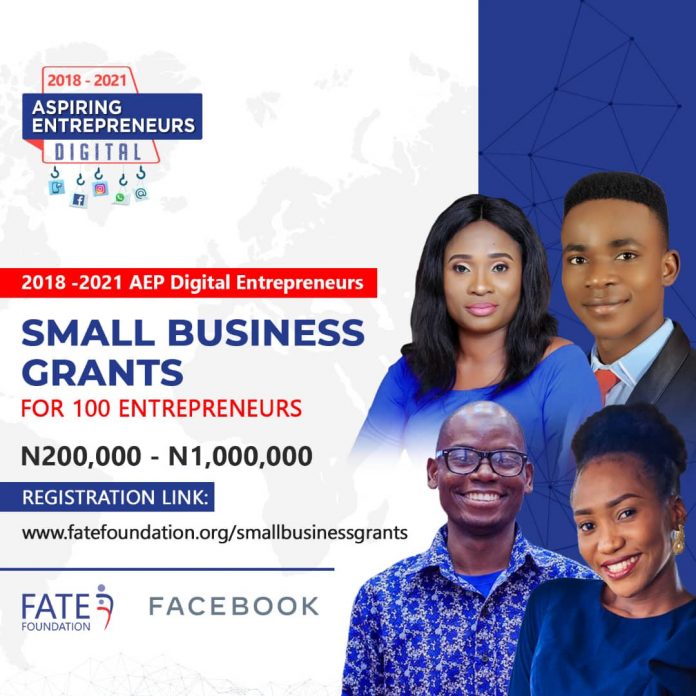 In celebration of World Entrepreneurs' Day, 2021, and to support emerging small and growing businesses in Nigeria, FATE Foundation has announced the "Small Business Grants Award" to one hundred (100) Nigerian business owners and entrepreneurs of small and medium sized businesses, who are alumni of the Facebook supported Aspiring Entrepreneurs Programme (AEP Digital) from 2018 – 2021.
According to a statement signed by the Executive Director of FATE Foundation, Adenike Adeyemi, the grants will be disbursed in three levels as follows:
Ten (10) entrepreneurs will be given One Million Naira (NGN1,000,000) each
Ten (10) entrepreneurs will be given Five Hundred Thousand Naira (NGN500,000) each
Eighty (80) entrepreneurs will be given Two Hundred Thousand Naira (NGN200,000) each
Beneficiaries must be alumni of AEP Digital from 2018-2021 or those who have you completed your program and the program requirements.
Award Criteria
All applications will be reviewed on the basis of the following:
Business Viability: Evidence of continued viability of the business post AEP Digital graduation.
Growth Traction:  Evidence of business growth and traction since program completion.
Digital Marketing: Traceable evidence of entrepreneurs using lessons learnt to use Facebook, Instagram and WhatsApp to grow their business.
Job Creation: Evidence of full and part time jobs created and enabled since program completion.
Innovation: Proof of using innovative business models leveraged by technology.
Key Timelines
August 21, 2021: Announcement of the Facebook small grant process during the 2021 World Entrepreneurs' Day.
August 30, 2021: Closing of the application process and commencement of review and shortlisting.
September 10-24, 2021: Video pitching and shortlisting for the top grant recipients.
September 29, 2021: Announcement of the 100 recipients of the small business grant at the 6th FATE Annual Alumni Conference.
Apply HERE