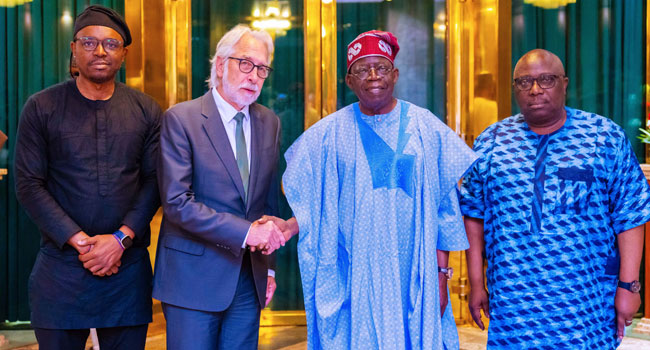 In a groundbreaking announcement on Friday, President Bola Tinubu revealed the Federal Government's plan to partner with Google Inc. in an ambitious initiative to create one million digital jobs for Nigerian youths. The momentous declaration came during a meeting between President Tinubu and Google's Global Vice President, Richard Gingras, at the Presidential Villa in Abuja, the nation's capital.
"We are ready to work with you on your commitment to creating 1 million digital jobs in Nigeria," stated President Tinubu, expressing his delight at Google's willingness to join forces in promoting digital innovation and empowering the country's young population. He assured the tech giant of the government's full support in fulfilling its corporate responsibility and aiding in the realization of its noble goal.
Recognizing the paramount importance of free speech and press freedom in the public interest, President Tinubu affirmed the government's commitment to upholding a free society that embraces open dialogue and freedom of expression.
During the meeting, Google's Vice President, Richard Gingras, highlighted his admiration for Nigeria's vibrant and talented youth population, which has harnessed technology and digital tools to expand access to information and promote democratic values. He expressed Google's deep interest in Nigeria and pledged continued support for the government's programs aimed at bolstering the nation's digital economy.
"We have all the tools and capabilities to make this happen," assured Gingras, echoing Google's determination to contribute to Nigeria's economic growth and prosperity. The tech giant is enthusiastic about supporting the government's efforts in creating an impressive one million digital job opportunities for young Nigerians.
Gingras also disclosed that his visit to Nigeria coincided with the West Africa Journalism Innovation Conference, where he witnessed firsthand the incredible creativity and ingenuity of the nation's youth in embracing innovation and technology.
The partnership between the Federal Government and Google holds immense promise for the future of Nigeria's economy, providing unprecedented opportunities for the country's aspiring digital entrepreneurs and technology enthusiasts. By collaborating on this visionary initiative, Nigeria aims to pave the way for a thriving digital ecosystem, offering sustainable employment prospects and driving innovation to new heights.
With this momentous step towards digital transformation, President Tinubu and Google have set in motion a powerful alliance that will empower Nigerian youths, drive economic growth, and position Nigeria as a dynamic player in the global digital landscape. The future looks bright as the nation embarks on this groundbreaking journey toward a digitally empowered and innovative society.