Jaiz Bank has announced that it will be hosting a training for players in the Micro Small and Medium Enterprises (MSME) space on Saturday, July 4,2020.
According to a statement from Jaiz Bank, the training is a free online webinar for all MSMEs to learn how to grow  and scale their businesses.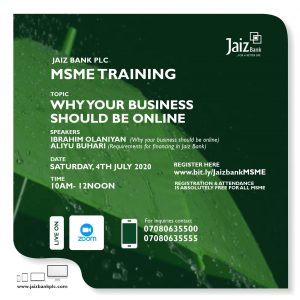 The training will focus on two main areas which are: Why your business should be online and Requirements for financing in Jaiz Bank.
The session would be anchored by Ibrahim Olaniyan and Aliyu Buhari both of Jaiz Bank.
Jaiz Bank Plc. obtained a Regional operating license to operate as a Non-Interest Bank from the Central Bank of Nigeria in November 2011 and begun full operations as the first Non-Interest Bank in Nigeria in January, 2012.
Register for the webinar HERE