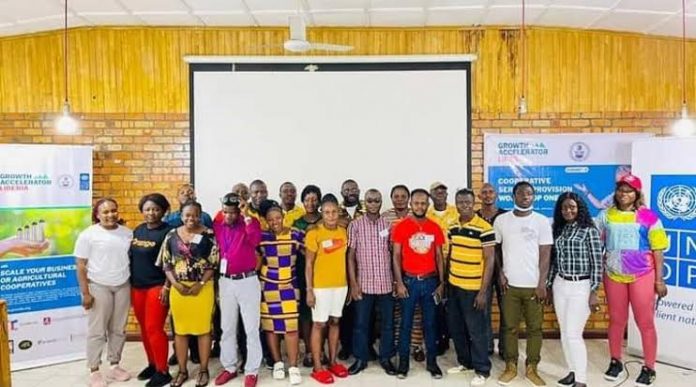 The United Nations Development Programme (UNDP) in its second year welcomed Monrovian entrepreneurs and its Small and Medium-Size Enterprises (MSME's) cohort for a two-day workshop.
The workshop is intended to support post-revenue cooperatives and businesses in scaling and growing through a combination of technical assistance, mentorship, and co-financing grants up to US$40,000.
The second session of UNDP Liberia's workshop for entrepreneurs was launched last week Wednesday with assistance from the Ministry of Commerce and partners iCampus and Accountability Lab.
A joint effort between the UNDP and the Liberian government, The Growth Accelerator Liberia aims to improve livelihoods, create jobs, and speed up effective for-profit companies throughout the country's fifteen counties.
Speaking at the opening session of the training, CEO of iCampus Luther Jeke said the application for this year UNDP Growth Accelerator cohort was launched in May and received the total of 228 applications from across nine counties and among the 188 for SME's Cohort and 40 for Agriculture cooperative cohort.
He said they were able to select 14 shortlisted applicants for SME's and 10 for the agriculture cooperative from among the 188 applicants for SME's through a competitive process and an independent judgment.
He claims that the workshop is a component of an initiative included in the Growth Accelerator Liberia program that aims to teach SME applicants how to present their companies using the perspectives of customers, competition, and product innovation.
He stated that the growth Accelerator Liberia will take place on September 16 at the ministerial complex in Congo Town. The UNDP growth accelerator fund will be awarded to the 14 semifinalists that have been shortlisted from the SME cohort and the 10 semifinalists from the agriculture cooperative cohort during the final pitching and selection ceremony.
He added that the initiative is aimed at post-revenue cooperatives and businesses, helping them scale and flourish through a combination of co-financing grants up to US$40,000, mentorship, and technical support.
On his part, Dosla Facarthy, team leader of the UNDP Liberia Program, praised the CEO of iCampus and conveyed greetings on behalf of the UNDP resident representative, stressing that entrepreneurship is an essential component of Liberia's growth and development.
He took the opportunity to encourage the attendees of the workshop to treat their training seriously as the program is progressively coming to a close and the finalists would be able to present what they have learnt throughout the boot camp, workshop, and entire program.