Nigeria's Communications and Digital Economy Minister,  Isa Ali Ibrahim Pantami on Saturday via a tweet issued a directive for the new license fees announced by Nigeria Postal Service to be halted as it was not part of the regulation he approved for the Agency.
Pantami's tweets read "Pls @NipostNgn, our attention has been drawn to an increase of licence fee, which was not part of the regulation I earlier APPROVED for you. Your Chair and PMG were YESTERDAY contacted to put the implementation on hold and send a report to our ministry by Monday. Best wishes!
"@NipostNgn , The power of regulation of NIPOST lies with the Minister. Any change of fee must be specific & be approved by him before implementation. I know the economic challenges of NIPOST. However, looking at the economic hardship of our citizens, we need to suspend any move."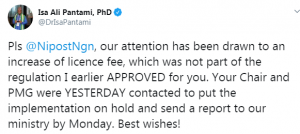 MSME Africa Online had earlier reported that the new regulation regulation by NIPOST categorised logistics companies into international, regional, state, municipal or intra-city, and SME operators. International operators are to pay ₦20 million as a license fee, national ₦10 million and regional operators ₦5 million. State, municipal and special SME operators are to pay ₦2 million, ₦1 million and ₦250,000 respectively. Each operator, irrespective of the category, will pay 40% of the license fee as renewal fee annually.
Nigerians have taken to Social Media platforms to condemn the new regulation which they consider insensitive and one targeted at making life more difficult for business owners especially MSMEs.
Dr Dipo Awojide, with the Twitter handle @ OgbeniDipo tweeted: "NIPOST should not be allowed to charge these ridiculous fees, @femigbaja . Thousands of young Nigerians have lost jobs in the last few months. Some turned to courier services. A friend who lost his job bought these from Oride. Please don't let him commit suicide. #SayNoToNipostFee"
Another Twitter user @besiray wrote : "It's rather unfortunate, insensitivity, and unspeakable to say the least. That at a time like this when countries of the world are giving waivers and leverage to startups and SMEs.. Ours have chosen to be the "OPPRESSOR", of her their countrymen and women"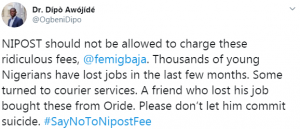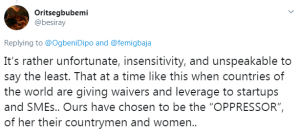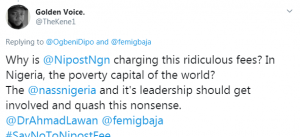 @TheKene1 also wrote on Twitter  : Why is @NipostNgn charging this ridiculous fees? In Nigeria, the poverty capital of the world? The @nassnigeria and it's leadership should get involved and quash this nonsense.
Adepeju Jaiyeoba took to Facebook to lend her voice to the outrage by other Nigerians. She wrote "Today, Government through its  postal service, Nipost, expects a person who got one bike on hire purchase so as to be able to feed his family and make ends meet to pay 2 million Naira licensing for state wide delivery or a 250,000 SME registration fee to be able to continue the dispatcher business he borrowed money to start".
Another Facebook user, Dada Afolabi Olawale who recently started a logistic business lamented " I just started a logistics business. we have not made even up to N10,000. How to pay our rider N45,000 monthly salary (which is even more than Federal Government minimum wage of N30,000) we don't know. Yet one is hearing all these inhumane government policy in a Covid-19 pandemic menace
In other countries, their government whose economy are equally greatly hit by Covid-19 pandemic are giving out palliative to their entrepreneurs, SMEs and major industries to help them survive and still provide employment to her citizens, which in effect reduce crime rate."
Nigerians consider the Minister's directive as a step in the right direction even as they urge the government to be more sensitive to the plight of business owners especially SMEs.