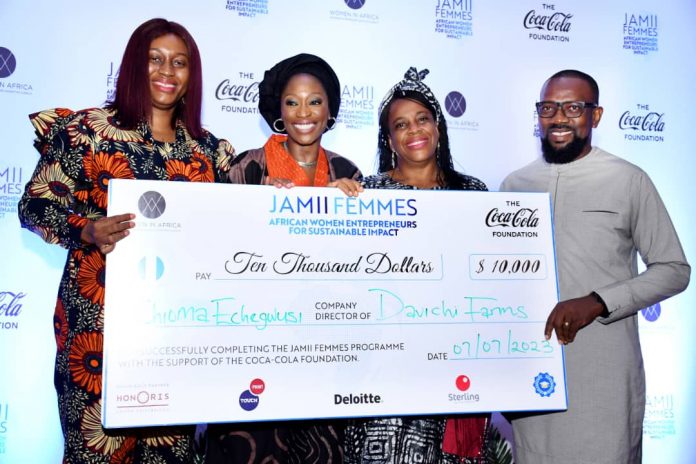 In a testament to the rising influence of women breaking down barriers and revolutionizing industries, The Coca-Cola Foundation (TCCF) has partnered with the international non-government organization, Women In Africa (WIA), to channel funding towards Nigerian female entrepreneurs via their trailblazing initiative – JAMII Femmes initiative 
Launched in 2022 across Nigeria, Kenya, and Ivory Coast, the JAMII Femmes initiative is set to revolutionize the trajectories of 14,000 African women entrepreneurs over a span of two years. The project employs a multifaceted approach comprising funding, business incubation, mentorship, and networking opportunities, striving to usher in a profound economic transformation across the continent.
As the inaugural cohort of the program concludes in Nigeria, an intensive boot camp in Lagos marked a pivotal milestone. The boot camp, a deep dive into enhancing participants' critical business skills, fostered networking expansion and provided insights into navigating Nigeria's dynamic business landscape.
Saadia Madsbjerg, President of The Coca-Cola Foundation, emphasized the Foundation's resolute mission of effecting positive change within the communities it serves. She noted, "This partnership marks an important milestone for our Foundation's commitment to unlock opportunities that enable greater economic inclusion for underrepresented communities." Madsbjerg further stressed the goal of creating a lasting impact within communities and championing economic resilience for African female-owned enterprises.
Hafsat Abiola, President of Women In Africa, underscored the holistic nature of empowering African women, beyond mere economic growth. The JAMII Femmes initiative, in Abiola's view, is a catalyst for equipping women with the skillset, knowledge, and resources to surmount challenges, nurturing them into influential leaders who will shape the trajectory of Africa's future.
The pinnacle of the closing ceremony was the bestowal of a $1,600 business seed grant to participants, underscoring their potential to scale their enterprises. Notably, Chioma Echegwisi, Founder of Davichi Farms and Agrotech Nigeria Limited, clinched the prestigious Laureate grant award of $10,000. This accolade was the result of her stellar performance throughout the intensive boot camp and the various stages of the empowerment program.
Organizers revealed that the grants are tailored to propel the ambitious business expansion plans conceived by the grant recipients during the program and boot camp. The transformative impact of the JAMII Femmes initiative serves as an inspiring narrative, catalyzing countless aspiring female entrepreneurs and testifying to the initiative's potential to spark unprecedented growth.