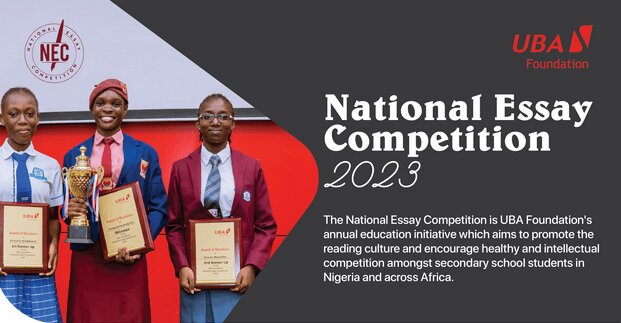 UBA Foundation, the corporate social responsibility arm of the United Bank for Africa (UBA) Plc, has officially launched the 13th edition of its highly anticipated National Essay Competition (NEC) for the year 2023.
 The National Essay Competition is a vital component of the UBA Foundation's overarching education initiative. This competition stands as a beacon for promoting literacy and cultivating a spirit of healthy intellectual competition, not only within Nigeria but across the entirety of the African continent.
Senior secondary school students from Nigeria are cordially invited to participate. The competition aims to engage a broader spectrum of students this year, who can conveniently submit their entries from the comfort of their homes or schools through the dedicated UBA Foundation NEC digital submission portal.
This educational endeavor seeks to encourage students to grapple with a pivotal question: 'Will Artificial Intelligence (AI) supersede Human Intelligence?' and furthermore, to explore strategies that would empower students to leverage AI as a complement to, rather than a replacement for, their innate ability to learn through rigorous research.
Students are tasked with the responsibility of diligently researching, crafting, and then submitting their handwritten essays via the digital portal on or before the deadline of October 20, 2023.
The 2023 edition of NEC promises substantial rewards for the standout contributors. The top laureate will be bestowed with a prestigious educational grant of N5 million, affording them the opportunity to pursue higher education at any African university of their choosing. Not to be overshadowed, the second and third-prize winners will also receive commendable educational grants, totaling N3 million and N2.5 million respectively, for study at accredited African universities.
The 12 best essays will be honored with brand-new Laptops and an assortment of invaluable educational tools. These provisions are intended to fortify their academic pursuits and facilitate tertiary-level research.
Mrs. Bola Atta, the Managing Director/Chief Executive Officer of UBA Foundation, expressed her enthusiasm regarding the expanded reach of the competition through the digital submission platform. She emphasized the Foundation's commitment to ensuring every Nigerian high school student has an equal opportunity to vie for the NEC 2023 accolade and the potential for a fully funded university education.
Mrs. Atta stated, "We have diligently upgraded our processes to ensure that our UBA Foundation programs continue to make a tangible impact in the lives of young scholars. Recognizing the prevalence of technology in today's world, we endeavor to meet students where they are most comfortable, hence we encourage digital submissions."
 Distinguished judges, comprising esteemed professors from reputable Nigerian universities, will meticulously evaluate the submissions. The judges will discern the top 12 finalists, all of whom will receive special recognition and coveted personal computers.
The grand finale is scheduled to unfold in November at the UBA head office in Lagos, Nigeria. During this culminating event, the top three winners will be unveiled, solidifying their status as the torchbearers of intellectual prowess among their peers.